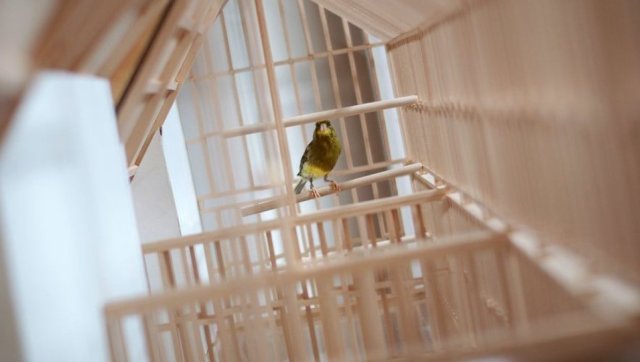 WASHINGTON -- Most of the works on display at the Corcoran Gallery of Art use traditional materials. And while the museum is certainly not a stranger to non-traditional art, if you wander on in this week, you'll see an artistic creation that uses a particularly odd medium: live canaries.
An installation by Jennifer Coster uses living, singing birds as well as chunks of coal and wire cages to examine the dangerous allure of the suburbs.
The exhibition, "Canaries in McMansionland," has taken up residence on the Corcoran's special display bridge until Aug. 5. The glassed-in bridge over the gallery entryway provides an arresting first sight for museumgoers, and Coster hopes it will be both an enjoyable and thought-provoking experience.
The canaries are housed in two large birdcages fashioned to look like a row of houses, propped crookedly on a chunk of coal. Coster said that she hopes to convey the deceptive calm and precarious nature of modern suburban culture.
"It's an ideal that's teetering," she told The Huffington Post, citing the "canary in a coal mine" adage as well as America's dependence on dirty fuels as inspirations for the work.
STORY CONTINUES BELOW
PHOTO GALLERY
Canaries in McMansionland
"I want people to experience the initial awe of seeing the birds, and then be hit by the realization that they are caged," she added.
Coster said her main interest lies in the interaction between the natural world and human culture, and it's not the first time she has enlisted live animals in a project. A previous exhibition at Catholic University of America enlisted an army of ants to create an unorthodox cityscape.
Born in the District of Columbia and raised in SIlver Spring, Md., Coster says D.C. is a "very supportive community" for artists, and hopes to stay active in the local art scene for a long time after her Corcoran display concludes. Her next project focuses on fostering the careers of other young artists in the D.C. and Baltimore area by producing a print quarterly showcasing their work.
For the remaining events in the Corcoran's "Take It To The Bridge" summer series, co-presented by Washington Project for the Arts, visit their website.
BEFORE YOU GO