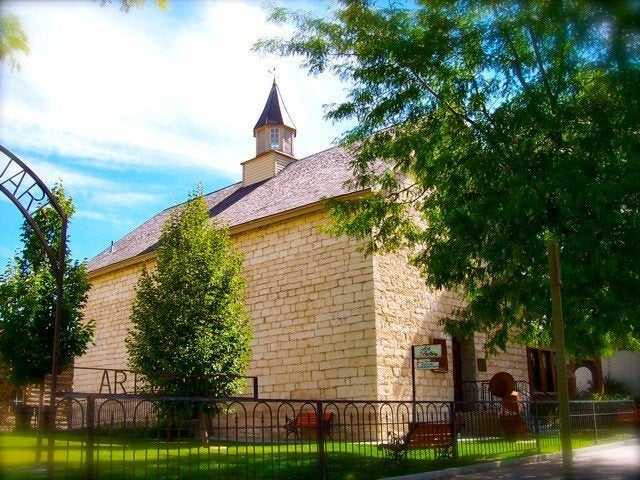 "I have my fingers crossed that they'll say [the decision] was hasty and we'll figure out a way to make it work," CUAC board member Andrew Shaw told HuffPost Arts. "If we have to leave Ephraim, it's almost certain we'll have to leave Sanpete County."
Shaw said that since Tuesday the organization has collected more than 200 names on a petition it started to spread the word out about the proposed eviction and funding cuts. The petition states that Ephraim City "reported a $800,000 budget surplus for the last fiscal year," making it seem unlikely that the reason the city is kicking the gallery out is financial.
Since 1991, the gallery has offered Utah residents contemporary art from nationally known as well as state artists, said Shaw. In the first year, the center had about "450 people walking through the door," and 21 years later, around 9,000 people frequent the art space in a town with only 6,000 residents, he said, adding that the real reason the mayor wants to pull the plug on funding is that the gallery's edgier contemporary exhibits don't jive with Utah's conservative values.
Parrish, however, denied any censorship in a phone interview with HuffPost Arts Wednesday. "That is a lie," he said. "They weren't involving the local flavor. They weren't showing community art. That's why."
The mayor also denied that a greater amount of people came to the art center in the past few years. "My opinion -- I obviously don't have anything to back it up -- is that their numbers had not been increasing and in fact, were down."
The CUAC director, Adam Bateman, has been a divisive figure since he took the post earlier this year, said Parrish. "Adam has [done] everything to slap us around and intimidate us to do what he wants."
The mayor said that he's been in talks with nearby Snow College to offer an arts institution that is more inclusive. "We will not go without an arts center, but it's a matter of getting people involved that will represent the community."
Update: The Ephraim City Council rejected CUAC's proposals last night, and they will have to vacate the space by August 20. For those in the area or who want to take a trip: On Aug. 18, the art center is planning a "Farewell Ephraim" party. "Footloose" will be screened at the last bash in the space.
PHOTO GALLERY
Central Utah Art Center (CUAC)
BEFORE YOU GO