Dig the new Digg?
The once-sensational social news site has unveiled its first major redesign since 2010, marking an effort to stage a comeback and reverse two years of plummeting usage.
In trying to take Digg from feeble to fabulous, the site's new owners, Betaworks, have borrowed a formula that's worked magic for Facebook, Pinterest and Instagram: post pictures, and lots of 'em.
In a blog post announcing Digg v1, as the makeover is officially known, Digg's creators told users to keep a look out for personalization features, commenting tools, a "Reading List" and more data showing why certain stories gain prominence.
But all those changes pale in comparison to the site's shift away from text and toward pictures, one that underscores the web's ongoing love affair with images and sense that if you want to attract an audience, you'd better use more pictures than words.
The old Digg featured rows and rows of headlines next to tiny images: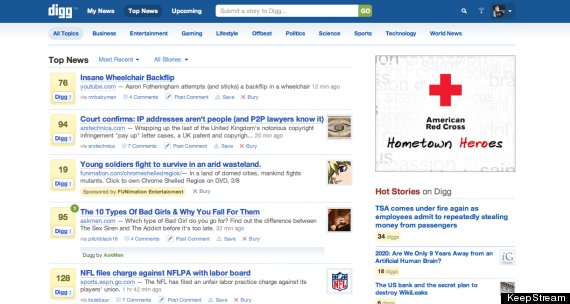 The new version allocates nearly equal real estate to images as it does to text: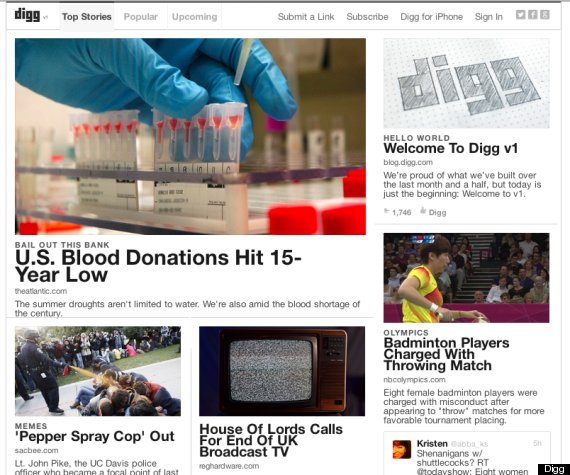 If the "photo first" strategy worked for other social networks, can it save Digg? The site's skeleton team had better make sure those pictures stay pretty, no easy feat. On sites such as Facebook and Pinterest, people choose the photos first, then add text later. The image, as the focus of what they're posting, gets the most care. Digg's pictures are really just the side dish to the main meal: an article.
in addition to relying on the Digg score algorithm that's always dictated what tops the site, Digg has a small staff of human editors who will referee the stories on the site's homepage, a move that that could take some control away from the community, but also help control the quality of the site's front page.
BEFORE YOU GO