A Sotheby's exhibition in London is showing a series of photographs of famed British artist Lucian Freud. Taken by photographers Cecil Beaton and David Dawson, the images show Freud throughout various periods of his life, representing an intimate look into the painter's private persona. Scroll down for photos.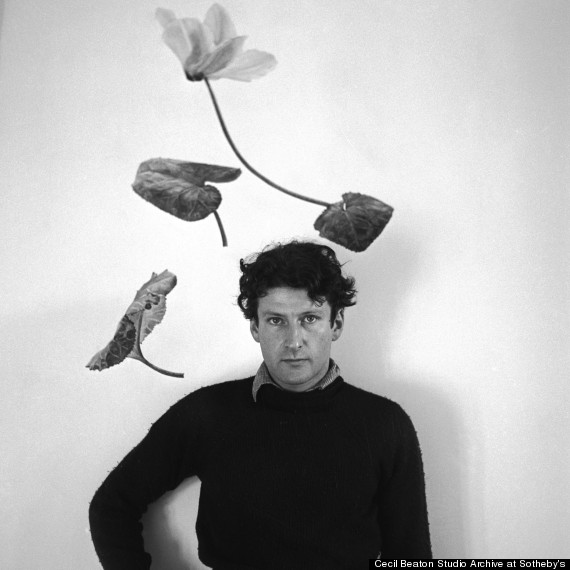 Cecil Beaton, Coombe Priory, Dorset, April 1956, courtesy of Cecil Beaton Studio Archive at Sotheby's
Freud, the German-born painter known for his thickly painted works and fleshy, textural figures, afforded both Beaton and Dawson unique access to his daily life. Beaton, an award-winning costume designer who later became a leading society portraitist, captured Freud during the 1950s with his friends, family and second wife Carline Blackwood, while Dawson, Freud's studio assistant from 1999 to 2011, photographed the artist during his final years. Displayed together, the body of photographs at the exhibit reflect on facets of Freud's life rarely exposed first-hand to his admirers. The images portray the artist's love of animals, his devotion to his family and friends, and his utter dedication to the Old Masters in a selection of scenes, some on view for the very first time.
The Sotheby's exhibit comes after a recent retrospective of Freud's work at the National Portrait Gallery in London, which has now moved on to The Modern in Fort Worth, Texas. "An Artist's Life: Photographs of Lucian Freud by Cecil Beaton and David Dawson" will be on display at Sotheby's in London until August 11th. A selection of limited edition prints are available for purchase at the exhibition.
See a slideshow of the work below, and let us know your thoughts in the comments section:
PHOTO GALLERY
"An Artist's Life: Photographs of Lucian Freud by Cecil Beaton and David Dawson"
BEFORE YOU GO