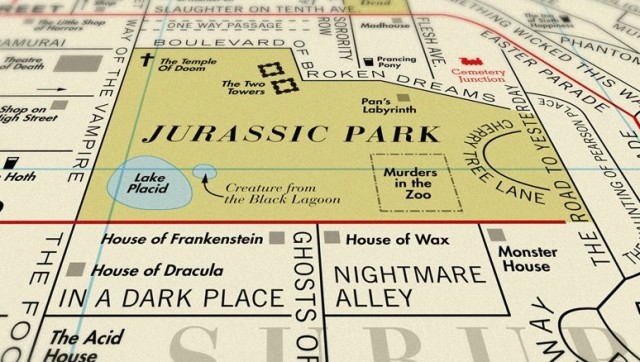 Got a feeling we're not in California anymore?
British design group Dorothy recently published a beautiful map of imaginary film locations in Los Angeles, and we can't get enough.
The graphic piece includes over 900 film locations, according to FastCo. British designer Ali Johnson told the website that the team attempted to show respect for their homeland: "We did pay our own personal tribute with a district dedicated to Hitchcock and also Cult British Horror films. And we also included a Red Light District--that was [my colleague] Phil's idea not mine!"
Johnson cites some of her favorite landmarks as being "Brighton Rock," "Cape Fear," "Sleepy Hollow," and "The Best Little Whorehouse in Texas." We personally enjoy the "Soylent Green" park!
All in all, the map clearly pays homage to LA's status as the city of cinematic dreams. While not all the films cited in the map were made here, it's clear that our city has provided inspiration for a multitudes of directors, writers, actors, and producers.
CHECK OUT THE MAP AND IMAGES BELOW:
All photos courtesy of WeAreDorothy.com.
PHOTO GALLERY
We Are Dorothy Map