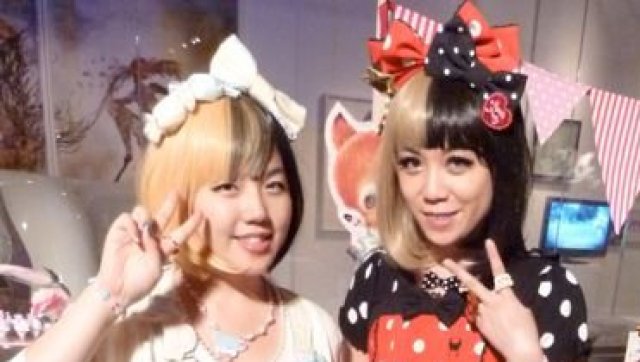 Cosplay cuties, Japanophiles and pop art fans all over Los Angeles shed a tear this week when Royal/T Cafe -- a combination art space, shop and cafe -- closed its doors for the last time.
For five years, the Culver City gem welcomed thousands of people for high tea, art exhibits and premiere parties. The playful combination of saucy waitress costumes, bold, colorful art and adorable objects for sale made for an overwhelming sense of kawaii -- the Japanese word for cute -- that will likely not be replicated soon.
Avid art collector Susan Hancock wasn't looking to open a restaurant when she first became interested in Japanese art seven years ago. Instead, the over-indulgent aunt started buying anime art for her neices when her sisters laid down the law: no more toy purchases.
"Then all of a sudden, I got hooked on it myself, and started falling in love with Japanese artists like Takashi Murakami, Yoshitomo Nara and Yayoi Kusama," said Hancock to The Huffington Post.
Soon enough, Hancock found herself traveling to Japan to immerse herself in their art world, and at a Nara exhibit called "A to Z," she had an epiphany.
"He had an amazing show, but he also had a cafe and a shop at the same time. And it was in an old warehouse. That's what inspired me."
The long-time New Yorker packed her bags and ditched the East Coast for Los Angeles. She took her concept to LA because it was a "fun, hopping place when it came to art," and the possibility of opening simultaneously with MOCA's impending Murakami show in 2007 gave her a perfect planning deadline.
Royal/T debuted on schedule with an opening exhibit called "Just Love Me," an art show that would land Royal/T one of their signature pieces: a big plastic Nara dog.
"People, not knowing what we were sometimes, would think we were a dog grooming place," laughed Hancock.
Indeed, peering in from the street, it wasn't quite clear what Royal/T was supposed to be. Covered in ivy on the outside and lit with a pink neon crown, the refurbished warehouse boasted a kitchen, private event rooms and plexiglass display cases. If the space defied definition, that was all the better for Hancock, who said she just wanted people to be able to eat with art in an every day environment -- "not like a museum setting."
And the community responded. Hancock said that some of her favorite customers were the ones who came to exhibits dressed in Japanese cosplay, or people who came for lunch during the week and then brought all four generations of their family over on the weekend. "It just became a very magical place," recalled Hancock. "We always wanted people to feel like they were Alice in Wonderland, and the had fallen down a rabbit hole and into a tea party."
Mission accomplished.
Royal/T isn't dead; the concept is just taking on another, more fluid identity. The defunct cafe's site lists brand/art collaborations, pop ups, museum consulting and art trips as part of Royal/T's next life.
But first, a well-deserved vacation. Hancock is headed to south of France, the Hamptons and Hawaii for several weeks before she meets up again with her staff.
Here's her final message to Angelenos as owner of the Royal/T space: "I just want to thank all the people for coming in over the five years. To everybody who had an event here and everybody who enjoyed it, you made it such a special place. Follow us as we go on and do new things around the world."
Hancock shares some of her favorite parties, memories and features with us, and even one "worst" experience. Click through the slideshow to read about the magical time we all had.
PHOTO GALLERY
Royal/T: Thanks For The Memories