Happy Birthday, Ryan Lochte! The day after the Olympian finished his run in London, he turns 28 years young. The easy-on-the-eyes swimmer has captured the eyes -- less so the ears -- of many viewers of the London Games. He's even given HuffPost Women's unofficial mascot, 31-year-old Ryan Gosling, a run for his money. In honor of Lochte's birthday, we've decided to stage a Ryan face-off. How does the less-than-eloquent superstar athlete stack up against the man who had us at 'Hey Girl'? May the best Ryan win:
OPINIONS ABOUT WOMEN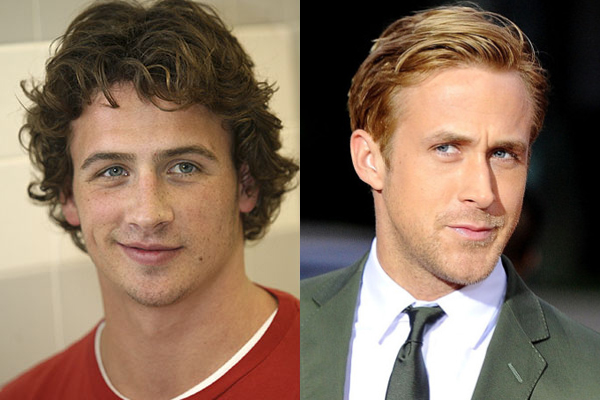 (Photo Credit: AP/Getty)
Lochte: "Is there a decent girl out there who doesn't lie? They all lie. They're all evil. I just want to meet someone who is real, who is honest. Who doesn't just want me for money or fame, who wants to love me as a person," he said in an interview with ESPN.com earlier this summer.
Gosling: "It's misogynistic in nature to try and control a woman's sexual presentation of self. I consider this an issue that is bigger than this film," said Ryan in November 2010, speaking about the NC-17 rating for "Blue Valentine."
STYLE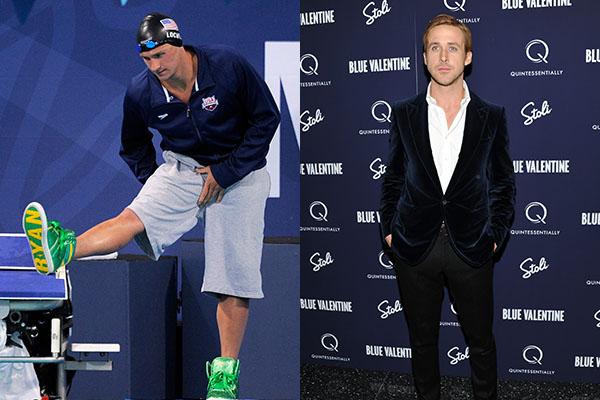 (Photo Credit: AP)
Lochte: His personal style calls for diamond-encrusted grills, a walk-in closet full of sneakers -- including his signature green bejeweled pair, and bright pink speedo. He once said that he'd like to be a fashion designer and that his style would be "a mixture between rock star slash, like, hip-hop." Right ... because we all know exactly what that means.
Gosling: Ryan Gosling loves his graphic tees and impeccably tailored suits. And according to GQ, he's a "sartorial badass." If that's not the male-fashion-set stamp of approval, we don't know what is.
RELATIONSHIPS WITH THEIR MOMS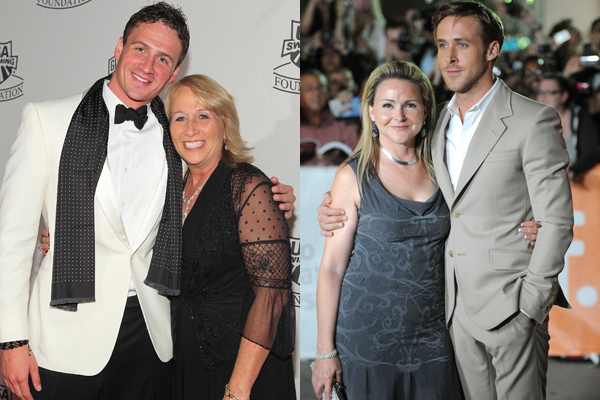 (Photo Credit: Getty)
Lochte: Ike Lochte, Ryan's mom, is very supportive of her son's endeavors. This extends to his sex and dating endeavors, which she discussed with TODAY.com.
Gosling: This Ryan is also super close with his mother. He even took girlfriend Eva Mendes to her graduation from Brock University in June.
SILLY NICKNAMES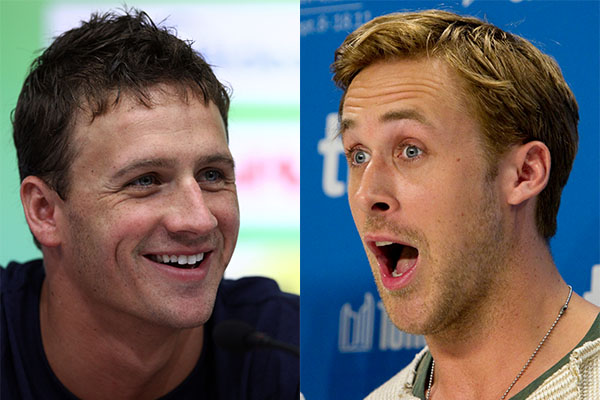 (Photo Credit: Getty)
Lochte: "The Lochtenator." Love it.
Gosling: We fondly refer to him as "The Gos," but his childhood nickname was "Trouble." He caused said "trouble" by picking on the "toughest guys" in an attempt to win street cred with the girls. "But it never worked," he told the LA Times.
FAVORITE FOODS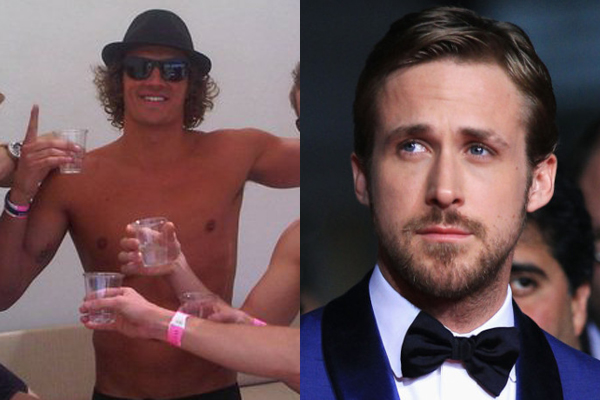 (Photo Credit: Facebook/Getty)
Lochte: Lochte likes pizza, wings, chips and McDonald's breakfasts.
Gosling: He prefers calamari. Hey Boy, way to stay high-brow.
LADY FRIENDS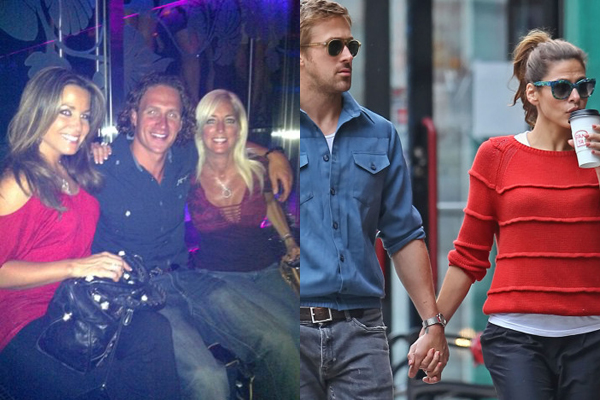 (Photo Credit: Facebook/FameFlyNet
Lochte: Ryan Lochte's relationships are of a more temporary nature right now. He's enjoying his single status and his made-famous-by-mom "one-night stands." "My last Olympics, I had a girlfriend -- big mistake," Lochte said to ESPN The Magazine in July. He wasn't about to make that error again.
Gosling: The Gos is a serial monogamist. He's had serious relationships with Sandra Bullock and Rachel McAdams, and is currently going steady with Eva Mendes.
BEST COVER SHOT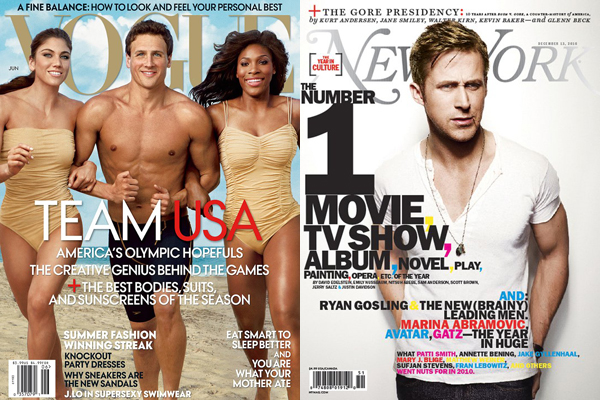 (Photo Credit: Facebook)
Lochte: He became the fourth man ever to grace the cover of Vogue in June 2012.
Gosling: The Gos struck a fierce pose on the cover of New York Magazine in December 2010.
DOG NAMING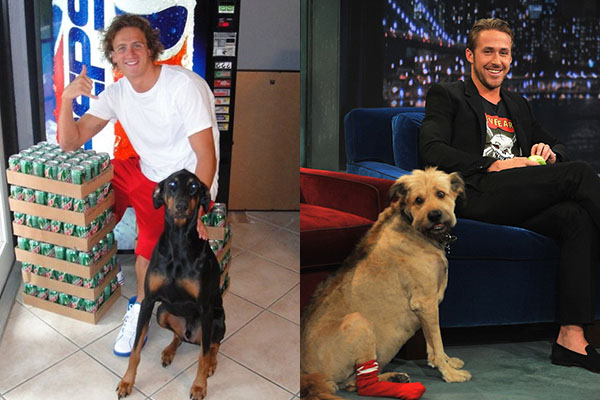 (Photo Credit: Facebook/Getty)
Both aesthetically-pleasing Ryans count canines as their "man's best friend." Lochte named his pup Carter. Gosling went for the more traditional, George.
APPROACH TO BACKPACKS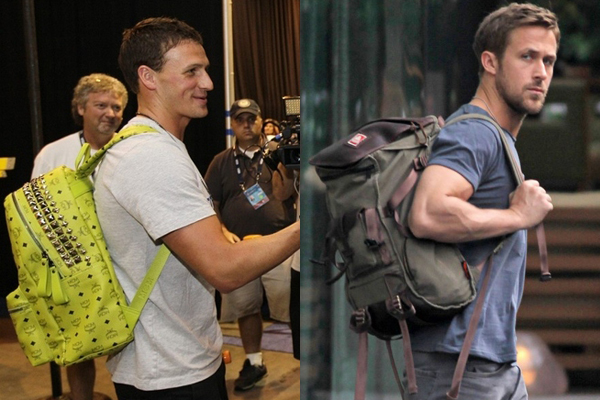 (Photo Credit: AP/Getty)
Lochte: Metal studs on neon
Gosling: "I just went backpacking across Europe."
GRATUITOUS BONUS: CHESTS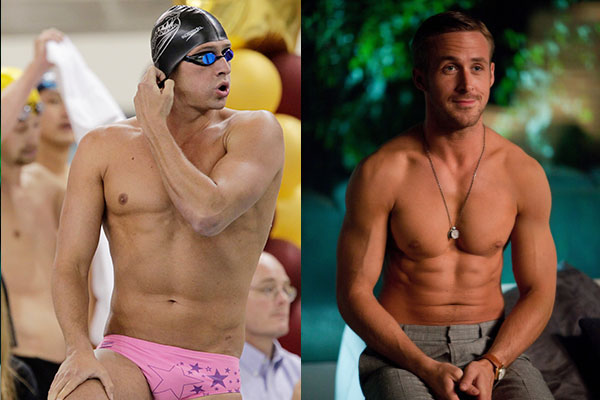 (Photo Credit: Getty/AP)
So you tell us: Who wins?
BEFORE YOU GO
PHOTO GALLERY
Ryan Lochte Wins Gold, 400m Individual Medley