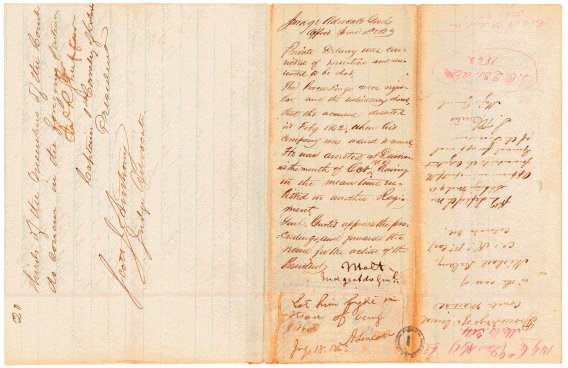 Thanks to Timur Bekmambetov and Tim Burton's latest film, Abraham Lincoln has earned a new reputation among some -- that of "Vampire Hunter" and all-round badass.
Of course, it's probably safe to assume Lincoln never actually rescued anyone from Nosferatu's clutches, but the sentiment, it seems, may be right on the money. That's because well before he rose to Hollywood fame, the 16th president was saving lives in his own distinguished way.
This week, Slate's David Plotz renewed interest in the late president with a blog post featuring a photo of a hand-written note Lincoln had penned in order to spare a soldier's life.
Plotz said that he had been touring the National Archives when he was introduced to this heartwarming gem. He writes in the blog post:
In 1863, the archivists told us, the Army's Judge Advocate General sentenced Michael Delaney to death for deserting his Colorado regiment in 1862. Delaney's case file was passed up to President Abraham Lincoln, who reviewed death sentences from court martials. In the file sent to Lincoln, the judge noted that Delaney had been captured while fighting for a different Colorado regiment: In other words, he had deserted, but then re-enlisted.
Lincoln, deciding that the soldier should be given another chance, overturned the death sentence. With poignant succinctness, he wrote: "Let him fight instead of being shot. A Lincoln."

"I guess it's not surprising that the author of the Gettysburg Address and the Second Inaugural Address could manage to convey humanity, common sense, and a flash of dark wit in just seven words. Still, it is thrilling, and humbling, to read it," Plotz wrote.
According to the Atlantic Wire, Lincoln's note is not a new discovery; it had been previously reproduced in different biographies of the president.
Nonetheless, in a post on its Facebook page, the Foundation of the National Archives noted the powerful significance that Lincoln's short note possesses.
"This document is a great example of how even the tiniest margin notes can make a record breathtaking," the post reads.
Of course, this is not the only example of the power of Lincoln's words. Here, in an excerpt from "Words Like Loaded Pistols: Rhetoric from Aristotle to Obama," which was published on HuffPost earlier this year, author Sam Leith explains how Lincoln often used words to get his way.
[H/T Yahoo! News]
BEFORE YOU GO