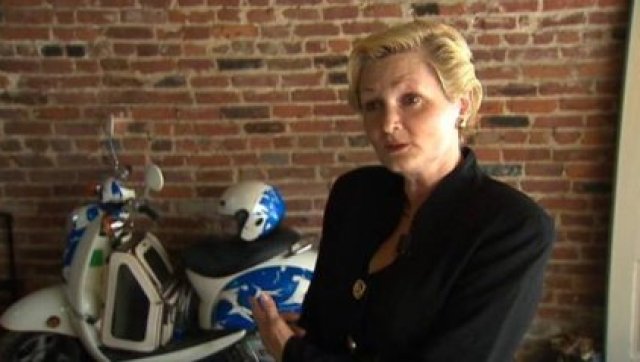 WASHINGTON -- One hexagenarian scooter-rider in the nation's capital says that the District of Columbia's laws regarding her gas-efficient, pint-sized two-wheeler are so onerous she's putting away her 50cc ride.
WRC-TV/NBC4 recently reported on Georgetown resident Ann Goodman's scooter-related legal altercations, of which there have been many.
According to the report, Goodman was arrested for not procuring a motorcycle license, which under D.C. law she was told she needed to ride her "little thing." She tried to evade D.C.'s requirement that scooters be registered by taking off her plates, hoping she'd be mistaken for a Virginia or Maryland resident -- scooters need not be registered in those states -- but was arrested again.
Here's WRC-TV/NBC4's description of Goodman's third incident:
The 64-year-old mother from Georgetown said everything went wrong when she was pulled over for not wearing a helmet.

"Right after you get out of church and you're going to get a bottle of milk at the Safeway and then you end up in jail."
The news station does not make clear why Goodman was arrested, rather than fined, for failing to comply with the scooter regulations. What is clear is that Goodman has had enough of what she and others say is an unclear and confusing set of laws:
"I'm not riding in this city until it is clarified," Goodman said. "I am not going to be thrown in jail, handcuffed, fingerprinted, photographed and hauled off to jail."
WRC-TV/NBC4 reports that D.C. Councilmember Mary Cheh (D-Ward 3) is now weighing in on D.C.'s apparent hostility toward the scooters: "What we have now is, is wacky."
Here's a 2010 Georgetown Dish photo of Goodman on her scooter -- she's not wearing a helmet.
BEFORE YOU GO