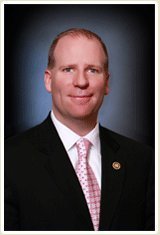 A Republican locked in a three-way primary for Missouri secretary of state may find his past advocacy for those with autism pushes him over the edge in Tuesday's vote.
Missouri political observers are saying that Sen. Scott Rupp's (R-Wentzville) work to create a state law allowing autism to be covered by health insurance has endeared him to the state's autism community and could help him win the primary. Rupp, whose campaign did not return a call for comment, took the lead on the legislation several years ago, including traveling around the state to gather input for the law that was signed in 2010. Rupp worked with Sen. Erik Schmitt (R-Glendale) on the issue.
"This group of people who have children suffering with this have not been political," former Sen. Jeff Smith (D-St. Louis) told HuffPost of the autism community. "These legislators understood their plight and achieved something. It is the kind of thing that can give him an edge."
Missouri was the 20th state in the nation to mandate autism insurance coverage. Advocates said the law has saved money for families seeking treatment and a diagnosis. On his campaign website, Rupp writes about his personal involvement with the issue, which began in 2005 with a girl he met named Emily and how he built a statewide coalition on the issue. Emily is now his stepdaughter following his December 2010 marriage.
"I traveled the state with my fellow panel members and listened, in town after town and city after city. It became clear how Missouri was failing kids with developmentally disabilities and Autism, a picture started to form in my mind on how things should be." Rupp wrote.
Former state Rep. Jason Grill (D-Parkville), who worked on the issue with Rupp, said the fight was a tough one and Rupp's work helped endear him to autism parents, who he predicted would help Rupp Tuesday.
"For a state like Missouri with a strong insurance lobby and a conservative legislature, it was a big victory," Grill said.
Rupp faces Rep. Shane Schoeller (R-Willard) and Sen. Bill Stouffer (R-Napton) in the primary. Grill noted that Rupp also should be helped by his residence in the St. Louis suburbs, which will drive heavy GOP turnout. Rupp is also expected to receive a push from Missouri Right to Life, which supports him.
Schoeller hails from southwest Missouri, which also has a large number of GOP primary voters. Stouffer has made headlines recently with his strong support from the state's billboard industry, after he backed pro-billboard legislation in the Senate. The winner of the primary will face Rep. Jason Kander (D-Kansas City) in November.
Turnout is hard to predict, although the state's competitive three-way GOP U.S. Senate primary is likely to help drive Republicans to the polls. At the same time, a drop-off is expected among secretary of state primary voters. Missouri Republicans are being asked to pick a candidate for lieutenant governor, a competitive race which sees Lt. Gov. Peter Kinder (R) facing off against three opponents; the winner will face the winner of an eight-way Democratic primary.
"It's a toss-up, like the Senate race," Grill said of the secretary of state primary.
BEFORE YOU GO
PHOTO GALLERY
Obama Campaign Ads