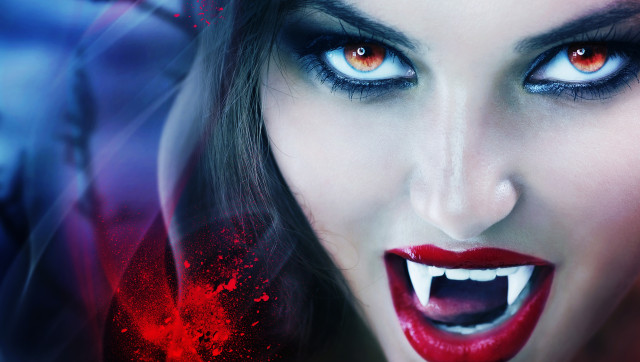 Kristen Stewart's sex scandal didn't inspire the word "trampire." Bloodsucking babes have long been sinking their fangs into our collective jugular.
The "Twilight" star's affair with "Snow White and the Huntsman" director Rupert Sanders has caused quite a stir though. Stewart, the newly dubbed "trampire," has been splashed all over tabloids like the New York Daily News. Even comic Will Ferrell, who's out promoting a new movie, doesn't want to talk about anything else. "I don't care what's going on in Syria. This is what we need to talk about," Ferrell said, according to EntertainmentWise.com.
Sites like New York City's Gothamist are treating "trampire" like a new term, but it was used as far back as 1987 -- as the title for a porn film.
The philosophy behind "trampire" may be as old as the hills, according to New Orleans-based vampire researcher Kalila Smith.
"The first vampire may have actually been female," Smith said. "She was named Lilith and, according to the Hebrews, she was Adam's first wife, but was banished from the Garden of Eden because she refused to be subservient to him, so she was cast out and replaced with Eve."
Smith said Lilith "became this bloodthirsty demon who roamed the Earth feeding on the offspring of Adam."
Thomas Garza, who teaches vampire mythology as part of the Slavic studies department at the University of Texas, suggests that vampires who fit the "tramp" label are likely the ones who use their masculine or feminine wiles to "drain a victim emotionally," thus weakening the victim without actually draining the victim's blood.
"The most famous or infamous female vampire, Elizabet Bathory of Hungary, who lived around the 16th century, was certainly reported to have been insatiable, but wasn't known at all for infidelity," Garza said.
"It seems more appropriate to me in this case," he adds, "to eliminate the vampire reference entirely and simply let the term rest at 'tramp.'"
A GALLERY OF TRAMPIRES
PHOTO GALLERY
Trampires: Sexy Female Vampires
C.J. Arabia, a Huffington Post blogger who co-hosts "The Bloodcast," a podcast devoted to the popular series "True Blood," thinks the "trampire" term may be redundant because vampires are tramps by nature.
"Think about it: Someone is coming into your room in the middle of the night sucking on you," she said.
The biggest trampires in pop culture today, Arabia said, are "True Blood" vamps Pam Ravenscroft (Kristin Bauer van Straten) and Jessica Hamby (Deborah Ann Woll). "Pam used to be a madam in San Francisco, and she always wears corsets," Arabia said. "Jessica has cheated on Hoyt, many times."
Kristen Stewart's real-life raunch may have earned her the "trampire" label, but Arabia wouldn't apply it to Bella Swan, her "Twilight" character.
"[Bella] goes back and forth between Jacob and Edward, but she never cheats on Edward -- except in real life," Arabia laughed.

BEFORE YOU GO