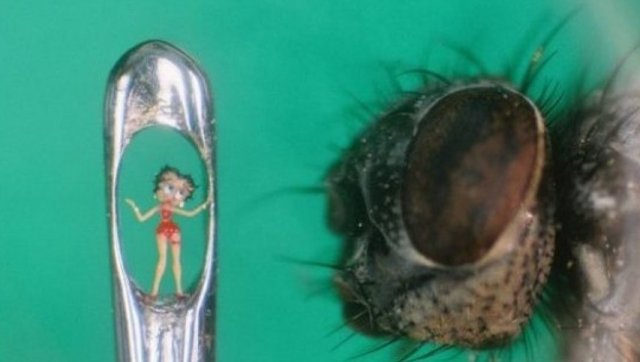 WASHINGTON -- While many classic pieces of art, from Pollack's Autumn Rhythm to Picasso's Guernica, are impressive for their vast proportions, the works of groundbreaking British artist Willard Wigan inspire awe because they are so tiny.
The celebrated "microscopic sculptor" is in the nation's capital this week speaking about and exhibiting his art, which includes delicate depictions of hummingbirds and fairy tale characters -- complete with expressive faces -- inside the head of a pin, visible through a microscope. Wigan uses the wings of flys to paint his creations, and works between the tiny tremors that each heartbeat creates in the human hand.
STORY CONTINUES BELOW ...
PHOTO GALLERY
World's Tiniest Masterpieces
An exhibition Wigan's new works titled "The Half-Century Collection," opens on Friday at Georgetown's Parish Gallery and will run until Jan. 31, 2013, marking the second time the gallery has featured his work -- the last show in 2010 drew thousands of visitors and became one of the Parish family's favorite memories of their gallery's 20-year history.
Wigan will also be at the Hyattsville location of Busboys & Poets on Friday night for an informal conversation with fans.
Wigan has been feted around the world, garnering special recognition from celebrities and the royal family in his native country. Ripley's Believe It Or Not! recently purchased 97 of his sculptures, and plans to display them around the world.
BEFORE YOU GO