A controversial billboard comparing President Barack Obama with Aurora shooting suspect James Holmes has come down.
(See a photo of the billboard below.)
The electronic billboard featured a photo of Holmes with the words "Kills 12 in a movie theater with assault rifle, everyone freaks out" next to a photo of Obama with the words "Kills thousands with foreign policy, wins Nobel Peace Prize." The sign is located in Caldwell, Idaho and sponsored by The Ralph Smeed Foundation, supporters of the late activist for libertarian causes in Idaho.
Maurice Clements, president of the board of the Smeed Foundation, stood by the billboard's controversial message, saying the group was making a "justifiable comparison."
"We don't want to offend people," Clements said, according to the Idaho Press-Tribune. "We're trying to gain friends for our message."
Some local residents didn't agree, calling the sign "offensive," "abhorrent" and "pathetic."
Holmes was recently charged with 24 counts of first-degree murder and 116 counts of attempted murder after being arrested for allegedly opening fire on a movie theater in Aurora, Colorado, killing 12 people and injuring 58. The maximum penalty Holmes faces is death.
PHOTO: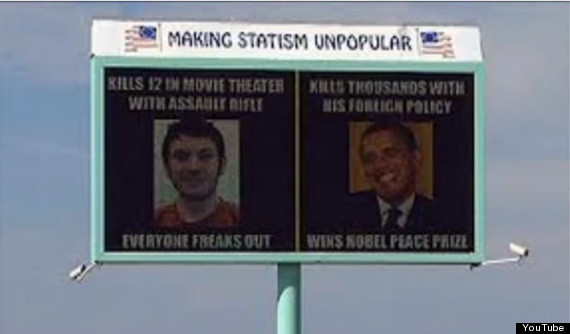 Below, a slideshow of below-the-belt political attacks:
PHOTO GALLERY
Below-The-Belt Political Attacks
BEFORE YOU GO