This week we met Emily, a fashion stylist whose amazing pompadour caught our attention from across the street. We also couldn't get over her insanely long lashes, a look she's mastered by using two mascaras and a little extra time. "I apply one coat of L'Oreal Voluminous Mascara in Blackest Black to top lashes. Wait until that coat is tacky and then apply another coat.ᅡᅠRepeat this about five times until my lashes are full. On the bottom lashes, I apply two coats of Maybelline Great Lash Waterproof Mascara in Very Black."
As far as keeping her eye look intact, Emily employs a few makeup tricks she's learned from being on set. "Sweeping powder over my eyelashes is a great way to make them thicker and elongate the wear of my mascara.ᅡᅠI also like holding a piece of tissue underneath my bottom lashes when applying mascara to them; this protects my skin from being smeared with mascara while allowing me to be more thorough with the mascara application."
Though the strongest takeaway from her beauty routine might be her unexpected less-is-more trick. "One thing that really helps my skin is to leave it product-free for at least one night per week. This means that after I shower in the evening and wash my face, I don't apply any lotions or cremes.ᅡᅠIt helps my skin 'breathe' better and brightens my complexion." Check out the rest of her beauty essentials below.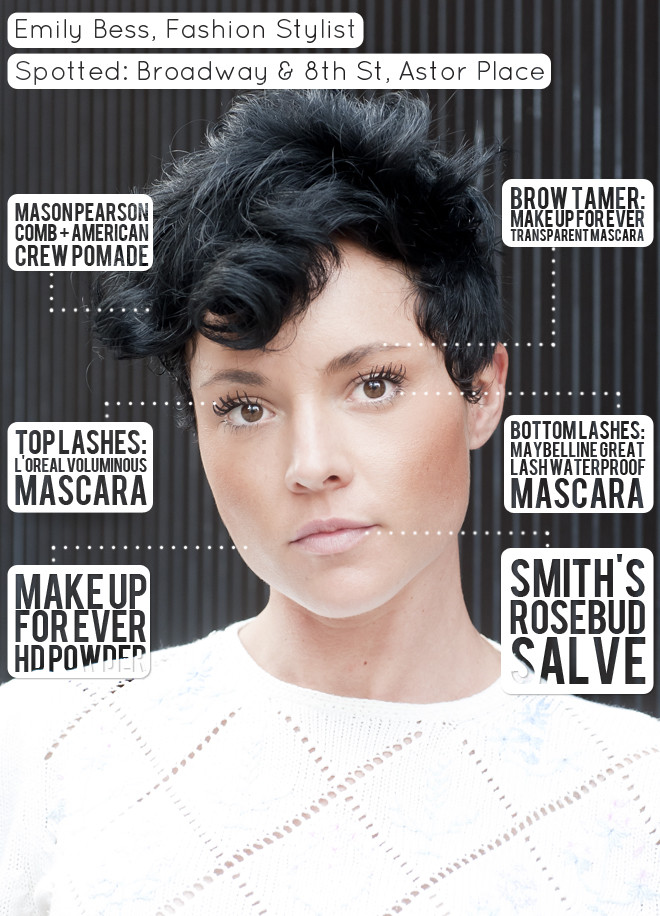 Photo/Art: Raydene Salinas
Click through the gallery to shop Emily's beauty look, then check out previous Beauty Street Style real girls.