Neon nail polish shades are what most people think makes up an eye-catching look (I'm just as guilty of such an assumption). But while browsing some of the best DIY nail art blogs, I've noticed more manicures with simple colors and shocking shapes. Case in point: These black and white stiletto nails.
London-based nail and makeup artist Sabrina Gayle discovered a tuxedo jacket-meets-dress by Olexa Casanova and translated the geometric print to her nails. Breaking the design down into basic shapes (triangle and rectangle), she was able to pull it off flawlessly. However, Gayle tells Stylelist that "preparation to the nail is the key." Follow the steps below to recreate this manicure.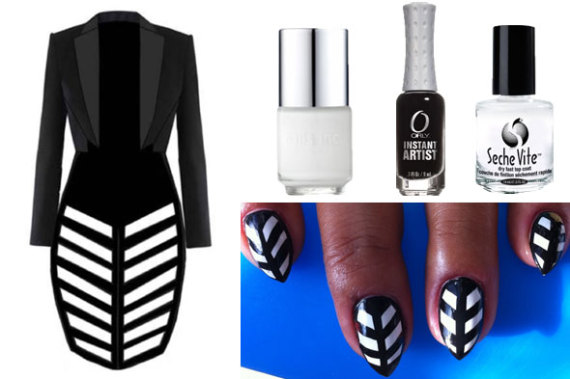 Photos: Olexa Casanova design; Nails Inc. Floral Street; Orly Instant Artist in Jet Black; Seche Vite top coat; Sabrina Gayle's Olexa Casanova-inspired DIY nail art
1. File your nail to the desired shaped and gently buff, creating a matte surface for the polishes to adhere to smoothly.
2. Use a cuticle cream to soften your cuticles, then gently push back. Remove any excess oil and you are ready to paint.
3. Apply a base coat before painting on two coats of Nails Inc Floral Street. Allow the first coat to dry for at least a minute.
4. Draw a triangle at the base of each nail using Orly Instant Artist in Jet Black with the flat end facing the cuticle.
5. Make a single line upward from the triangle point. You can tidy and change the thickness of the line.
6. Using the same black striper, draw a line at a 45-degree angle on both sides of the center line. Repeat this two to three times on every nail.
7. Finish your nail design with Seche Vite top coat. This will give you a super glossy finish, correcting any flaws.
What do you think about this Olexa Casanova-inspired manicure? Would you wear it? Tell us in the comments section.
Meanwhile, find out how to recreate a gold and black tribal design by the creators of nail polish brand Ginger + Liz.
Click through the slideshow below for more DIY nail art.
Want more? Be sure to check out Stylelist on Twitter, Facebook, Tumblr and Pinterest.
PHOTO GALLERY
DIY Nail Art
BEFORE YOU GO