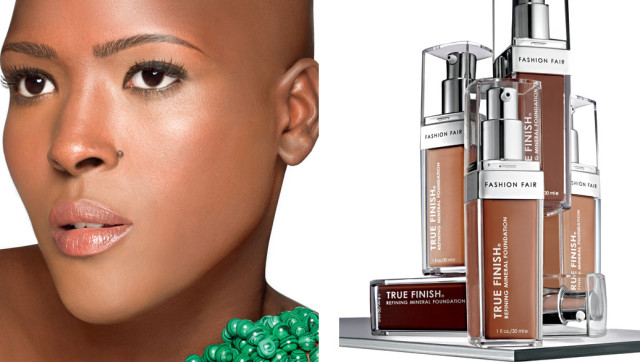 Chances are you, your mother and perhaps even your grandmother used and loved products from Fashion Fair Cosmetics, the largest black-owned makeup company in the world.
Founded in 1973 by Eunice Johnson, in conjunction with the Ebony Fashion Fair traveling show, the brand has big plans to continue that legacy of excellence with the launch of its first-ever mineral liquid foundation collection--Fashion Fair True Finish Refining Mineral Foundation.
The line which features a whooping 18 shades, boasts the widest range of prestige liquid foundations for Black women.
Clarisa Wilson, president of Fashion Fair Cosmetics (FFC), cracked open the company's archives to better understand the rich history behind the heritage brand and comb through records accounting four years of consumer data. Over 300 women of color nationwide were questioned about their beauty regimen, what they look for when buying cosmetics and ultimately asked to test prototypes of the product.
"We focused on women that identified themselves as occasional makeup wears to those who wear makeup every single day," Wilson told The Huffington Post.
Wilson and her team found that when you take away the difference in usage, the spectrum of women actually wanted the same things--a foundation that is lightweight, provides radiant looking skin and above all else, perfectly matches their complexion.
Using a method called HUE Harmony technology, FFC was able to create skin tone colors that adapt to the skin and address hyper-pigmentation, which is common amongst women of color. In addition, the fragrance-free, paraben-free, and oil-free foundations are enriched with malachite -- a semi-precious mineral rich in copper and anti-oxidants -- that protects and hydrates the skin.
The brand's dedication to its core customer is also seen in the names given to each foundation shade. Powerful Bronze, Confident Copper, Alluring Cocoa and Precious Onyx are just a few of the fun monikers.
"When we started this project it became so personal," said Wilson. "The names came from a list of attributes of black women that we always keep top of mind."
FFC plans to stay at the top of their customers' minds with this new foundation line and with the highly anticipated debut of Sam Fine's first signature color cosmetic collection set to launch during the holidays.
"We might have fell asleep for a couple of years, but we're awake and we're in the game," said Wilson. "This is just the beginning of getting back to addressing her needs."
And while one would think FFC has a corner on the multiethinic cosmetics market, women of color have become the inspiration behind several product lines released by mainstream companies as of late. L'Oréal Paris, Dior and Chanel are just a few of the brands that have developed extended foundation offerings to accommodate a growing number of minority customers.
However, FFC isn't worried about the competition. "The black consumer isn't simply an extension of Fashion Fair," Wilson said. "They are Fashion Fair."
A sentiment that rings true in FFC's campaign ad for the True Finish foundations. Instead of using a celebrity or model, the company sought out a "real woman" to serve as the face of the new line. They found that face working at a Starbucks in Los Angeles and it belongs to Amanda Nassali Kiggundu. The bold and beautiful campaign image shows a flawless Kiggundu gazing off into the distance and adorned with nothing more than a plethora of green beaded bracelets. And what makes the image even more powerful is the fact that Kiggundu is bald--and by choice.

As women of color we often identify ourselves with our hair (which we've seen can get ugly like in the recent discussion surrounding US gymnast and Olympic gold medalist Gabby Douglas). But by taking the topic of hair out of the equation, Kiggundu's beauty becomes universal. There is no debate on whether her beauty lies in the fact she relaxes her hair, wears it natural, has a weave or if she wear Locs. Anyone looking at the image can see themselves and are forced to take note of her stunning skin and nothing else. Powerful indeed.
Fashion Fair True Finish Foundations officially launch on August 8 and will be available at fine department stores including Macy's, Lord & Taylor, BonTon, Belk, Dillard's and on Fashion Fair's website.
Here's a look at the campaign ad -- and make sure to check out the amazing Fashion Fair Cosmetics ads featuring Aretha Franklin, Diahann Carroll and Natalie Cole in the slideshow below.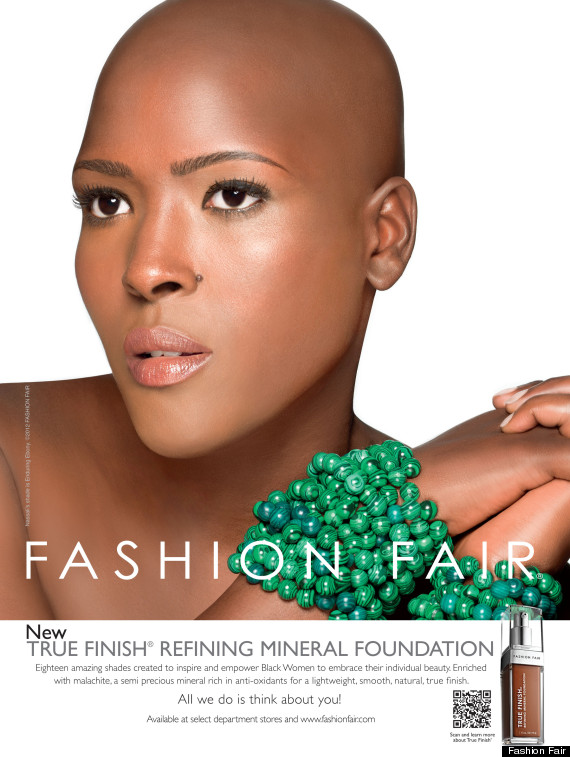 BEFORE YOU GO
PHOTO GALLERY
Vintage Fashion Fair Ads