It might be time to break out the atlas over at FoxSports.com.
On Monday afternoon, a huge headline for a story about Hamid Soryan's gold medal in Greco-Roman wrestling screamed "IT'S IN THE BAGHDAD!"
SCROLL DOWN FOR PHOTO
The play on words would actually have worked well -- if Soryan were actually from Iraq. But he's from Iran, and Baghdad is, of course, in Iraq.
Gawker pointed out the gaffe a bit after noon Eastern on Wednesday, but the erroneous headline continued to be splashed across the Fox Sports Olympics Wrestling page well into the next hour.
This isn't the first time a brand in the News Corp. family has had trouble with the geography in the region. In 2009, a graphic on Fox News mistakenly -- and famously -- labeled Iraq as Egypt.
The AP reports that Soryan's victory was Iran's first gold medal in Greco-Roman wrestling.
LOOK: Fox Sports' Geography Gaffe: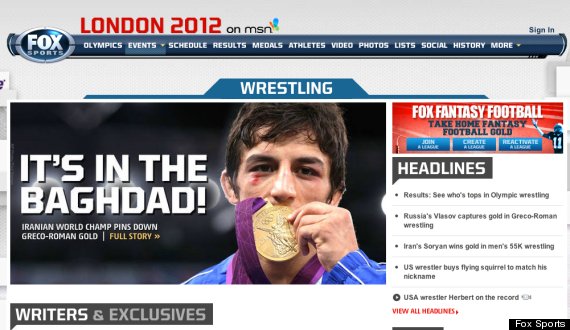 BEFORE YOU GO
PHOTO GALLERY
PHOTOS: Olympics Day 10, 08/06/12