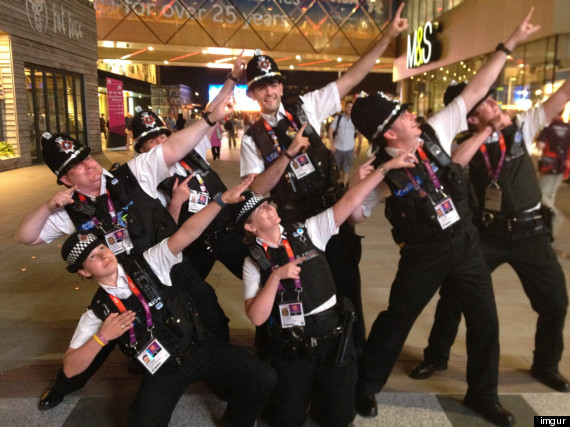 Sprinter Usain Bolt's record-breaking, gold medal-winning 100-meter dash on Sunday at the 2012 Summer Olympics inspired excited reactions from crowds, and celebrations were not confined to fans from his native Jamaica.
In the photo above, which was posted to Reddit by user "rotzooi," a group of seven police officers salute Bolt by adopting his famous celebratory pose near Olympic Stadium.
Bolt also performed the pose, known as "To Di World," at the Beijing Olympics in 2008. It has been described as "a key part of his marketing campaign" by the Associated Press.
The pose is also called "Bolting" and has been compared to "Tebowing," a kneeling posture made famous by NFL quarterback Tim Tebow.
While Bolt's pose is popular, the athlete has come under criticism in the past for showboating. After Bolt allegedly slowed down to celebrate at the end of his 100-meter win in Beijing, International Olympic Committee president Jacques Rogge said the sprinter "should show more respect for his competitors" instead of making "gestures."
However, during this edition of the Olympics, Bolt paused an interview to show respect for a fellow Olympian's win as he celebrated his repeat 100-meter gold on Sunday.
Correction: A previous version of this article reported that the police in the photo were London police. They are in fact South Wales police in London to help with Olympic security.
(via Reddit)
Are you a fan of Usain Bolt? Submit your own "Bolting" photo to be included in our slideshow below.
BEFORE YOU GO
PHOTO GALLERY
Doing The Bolt