The rest of the world has been busy calling Michael Phelps things like "the greatest swimmer ever" or even "the greatest Olympian of all time" after his record-breaking performance at the London Olympics, but model/actress Megan Rossee has another nickname for the U.S. swimmer.
Based on a recent tweet, Rossee calls him "Bear." This pet nickname may be worth noting as Rossee is Phelps' current girlfriend according to reports by E! News and various outlets. E! cites an unnamed source in reporting on the relationship but Rossee's Twitter timeline is full of evidence that the two are close.
After tweeting that she was in London for the Olympics and retweeting a message from Phelps, Rossee tweeted an Instragram image of her and her supposed beau with an impressive array of Olympic hardware.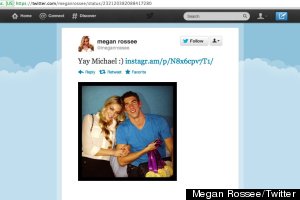 CLICK HERE to view full-size image.
RadarOnline also reports that Rossee and Phelps are an item, revealing the pair met while Rossee was working at a nightclub in Hollywood.
CLICK HERE for more from RadarOnline on how Rossee and Phelps met.
Phelps' previous relationship ended shortly before Christmas in 2011, according to the New York Post, when he split from Nicole Johnson, a former Miss California. Johnson had accompanied Phelps, and his mother, to the 2011 World Championships during another relationship that was kept secret for a time.
A brief look at Phelps' Twitter timeline during the Olympics isn't as helpful as Rossee's in trying to confirm the relationship. He retweets and mentions several fellow Olympians, professional athletes and various prominent person ranging from rapper Lil Wayne to President Obama. There isn't a recent mention of Rossee.
At a quick glance, none of the other people who appear in his timeline refer to Phelps as "bear."
BEFORE YOU GO
PHOTO GALLERY
Michael Phelps Through The Years