PARIS -- A swing through France was not on Mitt Romney's agenda during his recent trip abroad, but no one here seemed to be disappointed. With the election of President Francois Hollande, the summer holidays, the crisis in the euro zone and various social plans, the French have their heads elsewhere.

It's a stark contrast to the response to then-Democratic candidate Barack Obama's highly publicized trip almost four years ago. His brief visit to Paris drew dozens of onlookers outside the gates of the Elysée Palace. At the time, 84 percent of French people said they trusted him. "Obamania" permeated the highest levels of state, with then-President Nicolas Sarkozy openly displaying more than diplomatic support for his "friend" Barack.

Despite its ups and downs since then, Obamania has not dissipated here. In a poll conducted by the Pew Research Center in June 2012, 92 percent of respondents in France answered positively to the question "Does Obama deserve to be reelected?" This was the highest positive response rate among the 21 countries polled.

As for Romney, it appears that not a single opinion poll has yet tested his popularity in France or Europe. Even his victory in the Republican primary contest this spring was largely overshadowed in France by the country's own presidential election and the beginning of Hollande's five-year term.

"The French were under-informed about Romney's nomination, which is why he remains largely unknown," said historian Francois Durpaire, co-author of "Barack Obama's America." Durpaire called this lack of attention "a return to normalcy. Four years ago, the Republican convention did not interest many people. Media coverage of the U.S. primaries was exceptional because of the battle between Hillary Clinton and Obama."

It will be difficult for Romney to improve his image. Even among the ranks of elected Americanophiles, he is struggling to stand out.
"I think for the French, Romney is first and foremost the opponent of Obama," said Corinne Narassiguin, a member of the French Parliament representing French citizens living in North America.
"On paper, he is not uninteresting. He is a moderate, almost classic, Republican," observed François de Rugy, a Green Party MP who served as vice president of the France-United States friendship organization in the previous legislature. But de Rugy added, "There is very little known about him because he has no international experience."

To make matters worse, the U.S. Republican label is not ideal in France.
"Republicans suffer from two stereotypes in France: one advocating a lawless capitalism and the other advocating racist policies. The Republican Party's opposition to affirmative action, for example, is very misunderstood," lamented Pierre Toullec, chairman of the Mitt Romney France political committee, which seeks to explain U.S. policy from the Republican perspective rather than to unite expatriated American voters in France.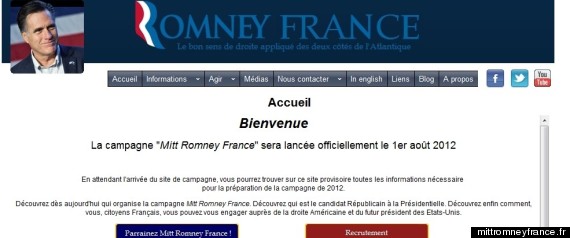 "Mitt Romney suffers from two things," said Durpaire, who is putting the finishing touches on his new book, "The United States for Dummies." First, the French have a much greater enthusiasm for Democrats, a sentiment that predates Obama. "The Democrats are the darlings of the French" for reasons of philosophy and political culture, Durpaire said.
Second, Obama himself has a very positive image. "He will always be the first black president of the United States," noted Durpaire. "Furthermore, his health insurance reform provided the impression that he was closer to French policy positions."
Even right-wing French elected officials are in no hurry to defend their conservative counterpart. In 2008, few officials from Sarkozy's Union for a Popular Movement openly supported the presidential candidacy of Sen. John McCain, a pattern that is likely to be repeated in 2012.

Yet Romney has significant assets with which to seduce the French public. He speaks the language fluently, having spent two years in France, from July 1966 to December 1968, spreading the good word of the Mormon faith. It's a key experience, for which he has been derided in the United States, where "the tolerance for anti-French discourse has no greater equivalent," said Narassiguin.
Romney has joined in some French bashing, like when he wrote in his book "No Apology" that the United States could "become the France of the twenty-first century -- still a great country, but no longer the world's leading nation." Since then, however, the former Mormon missionary has made ​​amends and quietly proclaimed his love of France.

"We were able to overcome Newt Gingrich's attacks on the fact that he spoke French," said Toullec, who defends the "pragmatism" of his candidate. "He is not an ideologue. Above all, he is someone who has made himself by working in the private sector, someone who seeks solutions to problems. He advocates a discourse that could appeal to France."

Or not.
"By seeking the support of the Tea Party, he seems at odds with French values​​, including those of the right," argued Narassiguin. "The fact that he is a millionaire who made ​​his living demolishing struggling businesses provides a conception of capitalism that bristles up into the ranks of the right."

Romney's religious convictions are not an asset either. Largely unknown in France, the Church of Jesus Christ of Latter-day Saints is considered, at best, a folk religion and, at worst, a cult. "The French are not aware that Mormon policy is close to the moderate wing of the Republican Party," said Durpaire.

Although a major reversal of French public opinion seems unlikely, the Republican candidate could still see his fame skyrocket in early September.
"I think the Republican convention in late August will provide the true start of the campaign in France," de Rugy said.
BEFORE YOU GO
PHOTO GALLERY
Mitt Romney's Greatest Hits