Rihanna has become known for partying hard (like, really hard), wearing underwear as outerwear and sometimes even foregoing clothing all together. So it should come as no surprise that some people don't quite see her as a positive role model. Her latest naysayer? The new CEO of Nivea Stefan Heidenreich.
Things started so well. The singer signed on to represent the skin care brand in 2011 and the brand proceeded to use her song "California King Bed" in their commercial and fund her tour before Heidenreich joined the company. Rihanna, on the other hand, proceeded to continue partying and have on-stage wardrobe malfunctions. Speaking to German newspaper Welt, Heidenreich said (according to Google translate), "Rihanna is a no go ... I do not understand how to bring the core brand of Nivea in conjunction with Rihanna."
Heidenreich added, "Nivea is a company which stands for trust, family and reliability." What? Appearing topless in ads and thrusting in embellished lingerie during her Nivea-sponsored tour doesn't align with the brand's core family values? We're not sure if this means that Rihanna's officially received the ax, but it's sure to be quite the blow since the Nivea contract was a huge factor in skyrocketing her onto Forbes' list of the highest paid celebrities under 30. Rihanna responded to Heidenreich's criticism by tweeting a photo of him and writing, "No caption necessary." We're not sure if we quite get her point, but at least we know that girl knows how to forget her troubles.
PHOTO: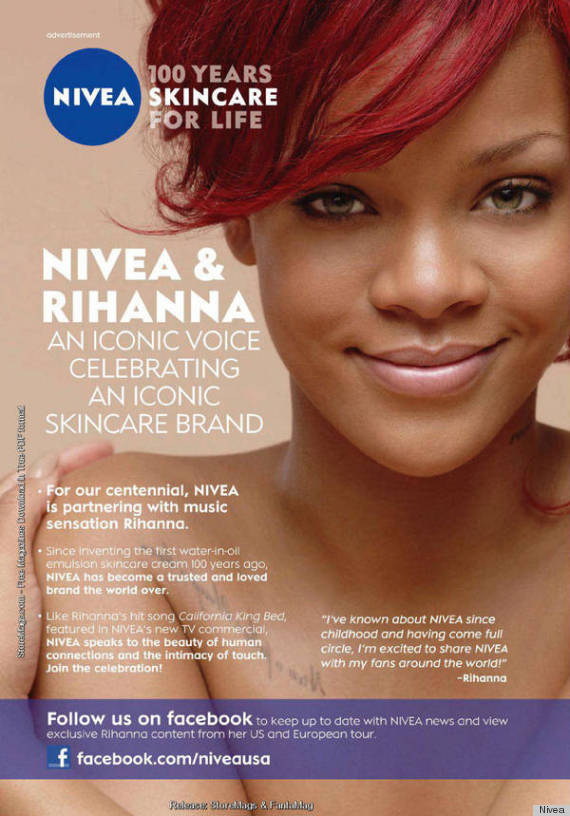 See Rihanna's style evolution. Does she look like a good role model to you?
PHOTO GALLERY
Rihanna's Style Evolution
Want more? Be sure to check out HuffPost Style on Twitter, Facebook, Tumblr and Pinterest.