Sarah Palin is a superhero. Or, at least that's what a t-shirt she wore last week would imply.
Sarah Steelman, who's running for the Republican nomination for the Senate, brought Palin to her rally in Cleveland, Mo., where the former vice-president nominee gave a speech wearing the same gear as Steelman's other campaign workers -- including Steelman's Superman-themed campaign tee. Palin's five-inch heels, though, didn't seem to be part of the same fashion vernacular.
Why note the outfit? Diana Reese, a Washington Post writer who was on the scene, witnessed the outfit IRL and says that it didn't lend Palin much by way of credibility:
But it was hard for me to take Palin seriously dressed as she was. First, her shoes: Five-inch wedges. Her black capris weren't quite skin-tight but tight enough, and her t-shirt with its Superman logo (a Steelman campaign shirt emblazoned with "Our freedom. Our fight.") emphasized her figure. She never once removed her oversized sunglasses.
But the "Superman" reference might not be so ideologically aligned with Steelman and Palin's politics. As our comic book expert friend tell us regarding a common interpretation of superhero politics: "Batman is a rich patrician guy who believes in extreme law and order, and Superman is essentially an immigrant who became a journalist and sticks up for the common person and fights mainly against a corporate overlord."
It turns out Palin's been wearing additional adventurous campaign wear lately; she brought out a pair of cowboy boots (her fave footwear) for the Texas Senate rally.
Check out some stills of Palin's shirt below, and watch it in action in video footage from Kansas City's KMBC.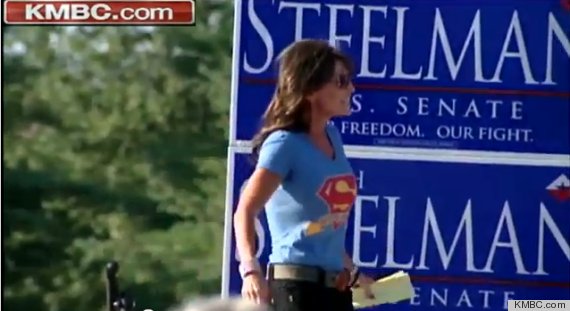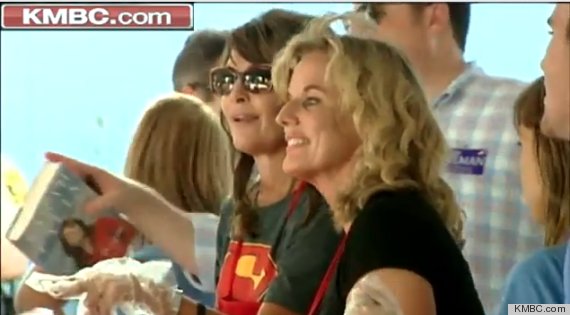 Want more? Be sure to check out HuffPost Style on Twitter, Facebook, Tumblr and Pinterest.
BEFORE YOU GO