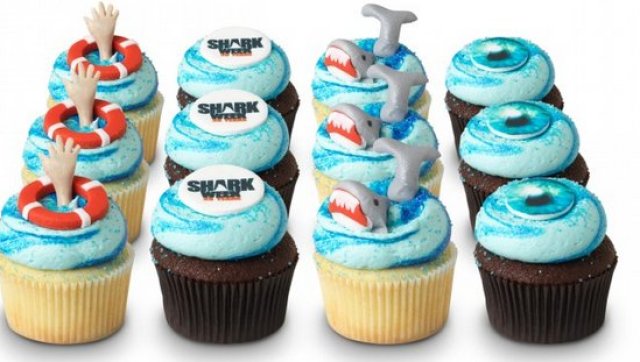 WASHINGTON -- Chompie the inflatable shark is back adorning the Discovery Channel's Silver Spring, Md., headquarters.
Now your stomach can enjoy the impending 25th anniversary of Shark Week, too.
Shark Week starts on Sunday -- what better way to celebrate than with shark-themed cupcakes?
The cupcakes are made by D.C.'s own Georgetown Cupcake. They come in vanilla and chocolate -- and they're topped by thematically appropriate fondant sharks and disembodied hands. Fifteen percent of the buttecreamed proceeds benefit ocean conservation group Oceana.
Order the Shark Week cupcakes here, a dozen at a time. You're going to need bigger pants.
Sharks -- not the fondant kind:
BEFORE YOU GO