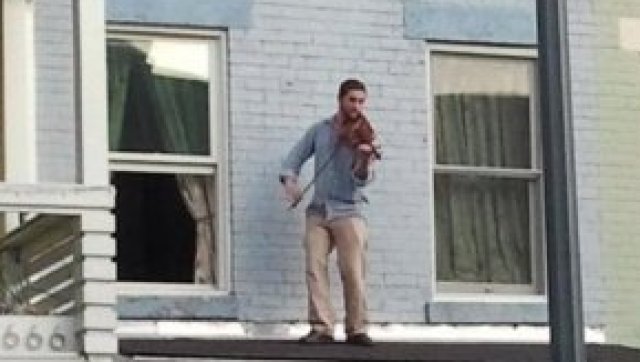 WASHINGTON -- Throughout the summer, sweaty joggers, inquisitive bloggers and others in the District of Columbia have been snapping pics and wondering about the mysterious violinist who has been spotted performing the roof of his home on Sunday afternoons.
Mystery solved: The man is Ness Zolan, a 25-year-old recent California transplant who goes by "DCFiddler" on Twitter.
"I always like to find unique ways to bring access to the arts," Zolan recently told The Huffington Post.
While relaxing on the roof one evening last April, Zolan's roommate suggested they do something to engage the many pedestrians trudging in and out the the nearby Harris Teeter on Kalorama Road in Adams Morgan. Zolan grabbed his violin, and his informal summer concert series was born.
The first song he played? Almost too-on-the-nose: It was the theme song from the play "Fiddler on the Roof."
Story continues below...
PHOTO GALLERY
D.C.'s Fiddler on the Roof
He now plays mostly improvisational pieces, with some of his own formal compositions thrown in. Zolan said the positive response has been overwhelming, with neighbors as well as complete strangers sending thank you notes, pedestrians lingering in front of his rowhouse and carloads of people stopping to listen and applaud.
Zolan has always been a fan of unconventional music, he told HuffPost. He enjoys playing tango music in D.C's Pan-American Symphony Orchestra, which he said transcends the rigid nature of many orchestral ensembles.
"We drink a bottle of wine, and then play more, and then drink another bottle of wine," he said.
Zolan, a former intern who now works for the Kennedy Center's development team, said that if classical music is a dying art, then it's due to poor management and presentation; archaic attitudes about the serious and elite nature of classical music don't help. Zolan hopes to get more people interested in music through his rooftop performances which he's hoping to bring inside the Harris Teeter when the weather turns colder.
The rooftop playing has certainly attracted devotees over the summer, some of whom have taken to shouting requests -- like Michael Jackson or Stevie Wonder -- which Zolan has obliged, launching into his own take on "Smooth Criminal" and other pop tunes. But, Zolan said, he draws the line at being a rooftop jukebox.
"Of course somebody yelled for 'Free Bird,'" he said, "but, you know, I didn't play it."

BEFORE YOU GO