Most people have engaged in "retail therapy," i.e., "shopping your feelings," i.e. buying stuff when you feel down to boost your mood. Right? It can't be just us.
Lucky magazine capitalizes on our human tendency to shop the sad away with its new #FillTheVoid ad campaign, which Nat Ives at AdAge says is part of the mag's new e-commerce platform, MyLucky.
The Partners & Spade ads comprise the print magazine's first ad campaign in 12 years that comes complete with its own hashtag, #fillthevoid.
Does your "boyfriend have a boyfriend"? Is your intern your only Twitter follower? Are you only on day two of your five-day juice cleanse? "Fill the void," Lucky's new ads urge, presumably by picking yourself up a bauble or two from the app.
Of course, Lucky has before been dogged by criticism -- at least by our friends -- that it's more of a catalog than an editorial outlet; editor-in-chief Brandon Holley has called her mag an "enthusiast magazine" a la Cigar Aficionado. Yet, the message of this new campaign, i.e. that an emotional ache or even more dangerously, a literal hunger pain, can be massaged away with a new pair of shoes seems even more blatantly consumerist.
Is that so bad? In this writer's opinion, Lucky could have gone with "Treat Yourself" or "Splurge!" in order to avoid implying that buying a new pair of shoes is a fulfilling and cathartic form of self-healing. But, check out one of the ads below -- and see more at AdAge -- and tell us what you think.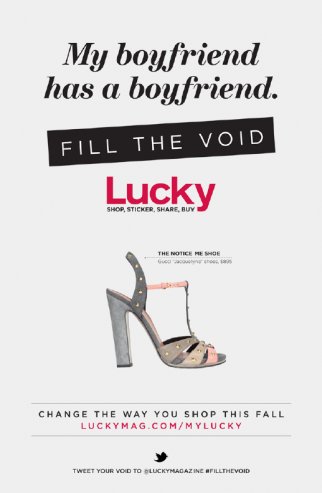 Check out some much more controversial ads that actually got banned below!
PHOTO GALLERY
Banned Ads (NSFW)
Want more? Be sure to check out HuffPost Style on Twitter, Facebook, Tumblr and Pinterest.