With the party nominating conventions just a few weeks away, the race for president remains in about the same place it has been all summer, according to three new battleground state polls. President Barack Obama holds a slight overall advantage over presumptive Republican presidential nominee Mitt Romney, but partisans generally tilt heavily to their party's candidate and independents are split almost evenly.
The new surveys, conducted jointly by Quinnipiac University, CBS News and The New York Times, say Obama leads Romney by 4 points, 49 percent to 45 percent, in Virginia and by 6 points, 51 percent to 45 percent, in Wisconsin. In Colorado, he trails by 5 points, with 45 percent to Romney's 50 percent. In 2008, Obama won all three states.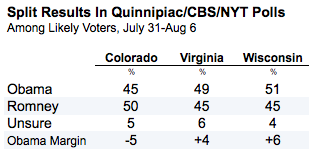 Across the three states, the new Quinnipiac University polls show the same partisan division indicated by other surveys all year. Obama and Romney each receive more than 90 percent support from members of their respective parties, while independent voters remain closely divided.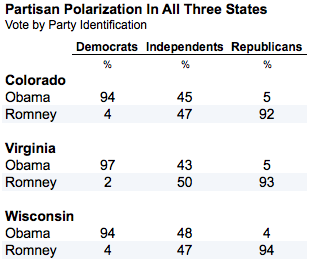 In the swing states polled, the relatively close margins between the candidates mirror the tight race nationwide, as do the very small number of undecided voters. Only about one in 10 voters in each of the three battleground states say they are not sure they would vote for the candidate they currently favor.
A notable gender gap is present in the data -- Obama leads among women in each state, including a 23 point margin in Wisconsin. Romney wins among men in each state.
HuffPost Pollster, which aggregates all publicly available polling information, moved Colorado this week from "Leans Obama" to "Tossup." Obama won the state over John McCain by nearly 9 points in 2008.
In Virginia, the poll shows independent likely voters going for Romney by a 7 point margin, 50 percent to 43 percent. The state is also considered a tossup under HuffPost Pollster's model.
In Wisconsin, the bluest of the three states polled, independents are split 48 percent for Obama and 47 percent for Romney.
The economy remains the dominant issue for voters in all three states, with nearly half citing it as their top priority. Voters in Virginia and Wisconsin are nearly split as to which candidate would better tackle the issue, while in Colorado, Romney leads by 10 points, 51 percent to 41 percent.
Voters in states with 2012 Senate races are also split on their choice of Senate candidate. In Virginia, voters are divided 48 percent to 46 percent, between Democrat Tim Kaine and Republican George Allen. In Wisconsin, Democrat Tammy Baldwin is tied with GOP candidate Tommy Thompson and leads other possible candidates Eric Hovde and Mark Neumann by 3 to 4 points.
The demographic composition of Quinnipiac's Colorado poll points either to the big challenges the Obama campaign faces mobilizing its base, a random skew in this particular poll's sampling, or perhaps a little of both. In 2008, a CNN network exit poll identified 13 percent of the state's voters as Latino, whereas the new Quinnipiac poll finds just 9 percent of likely voters to be Latino. Hispanic voters prefer Obama over Romney in the new poll by a 68 percent to 28 percent margin -- slightly better than in the 2008 exit poll -- but their lesser representation in the new poll may indicate less enthusiasm about voting than four years ago.
Similarly, voters under the age of 44 made up nearly half (47 percent) of Colorado's 2008 electorate according to the exit poll, but those younger voters make up just 29 percent of likely voters in the new Quinnipiac poll. These differences may be indicative of lower enthusiasm or turnout among younger voters, or it may be a random skew among the likely voters in this particular poll.
Two recent automated, recorded-voice polls conducted in Colorado in early August produced better results for Obama. A Rasmussen Reports survey showed a 47 percent to 47 percent tie, while a survey by the Democratic-leaning Public Policy Polling (PPP) gave Obama a 6 point lead (49 percent to 43 percent).
The Quinnipiac/New York Times/CBS News polls were conducted between July 31 and Aug. 6, using live interviews on land lines and cellphones. The surveys included 1,463 Colorado likely voters, 1,412 Virginia likely voters, and 1,428 Wisconsin likely voters. Each had a 2.6 percent margin of error.
BEFORE YOU GO
PHOTO GALLERY
Awkward Mitt Romney