She's been widely criticized for her fluctuating weight on NBC's "The Voice," but in a newly-released promo picture for her upcoming album, Christina Aguilera appears slim, and glamorous!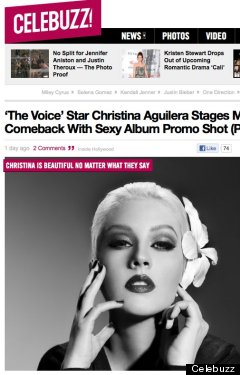 According to Celebuzz, the beautiful black-and-white photographs were taken by photographer Jake Bailey, but the bigger question on our minds is: Was Christina photoshopped? We'll probably never know...
Earlier this week, an upbeat Aguilera tweeted that she's excited about her upcoming album, which is reportedly due out before the end of the year.
Christina is keeping the official details for her single on the hush hush, but the singer recently described her new sound (she needed "a new sound" after her 2010 album "Bionic" failed to connect with her fans), as being, "very heartfelt, deep-rooted, and introspective."
The first single off the upcoming album is being produced by Max Martin, and is expected to debut at some point this month.
Reportedly, Christina's boyfriend Matthew Rutler has produced some tracks for the star on the album .
Aguilera was also in the news this week, because it was just announced that the half-Ecuadorean artist is one of the singers helping the Special Olympics celebrate the 25th anniversary of its "A Very Special Christmas," album series. Accoridng to Billboard.com Aguilera joins an all-star lineup, that includes Michael Buble, Dave Matthews, and Train.
But what say you, HuffPost readers: Is this photo of Christina photoshopped or au naturale?
BEFORE YOU GO
MORE CHRISTINA:
PHOTO GALLERY
Christina Aguilera