A plainclothes NYPD sergeant was shot twice in the leg while chasing a suspect in Queens on Wednesday night.
The New York Post reports 44-year old Sgt. Craig Bier is the tenth officer to get shot in 2012.
Bier and his partner were riding in an unmarked van when they noticed a man on a bike acting suspiciously. After briefly following the individual, the suspect suddenly jumped off his bike and attempted to evade cops by running in the opposite direction.
Biers began climbing a 10-foot wall to get to the suspect, when gunshots broke out. The 15-year veteran's injuries were not life-threatening and he is expected to make a full recovery at Jamaica Hospital.
A man suffered a graze wound to the head and was taken into custody. The NYPD are now searching for 23-year old suspect John Thomas, who they believe to be the shooter.
Police Commissioner and Mayor Bloomberg visited the hospital early Thursday morning to discuss the violence with reporters.
Both have been staunch proponents of stricter gun laws, and Bloomberg has been particularly critical of both President Obama and presumptive Republican presidential nominee Mitt Romney for what the mayor believes is a lack of willingness to discuss gun laws.
Following Wednesday's violence, Bloomberg tweeted, "At 1:40 am I visited a shot NYPD officer. Were the candidates for prez or leaders in congress up thinking about the damage of weak gun laws?"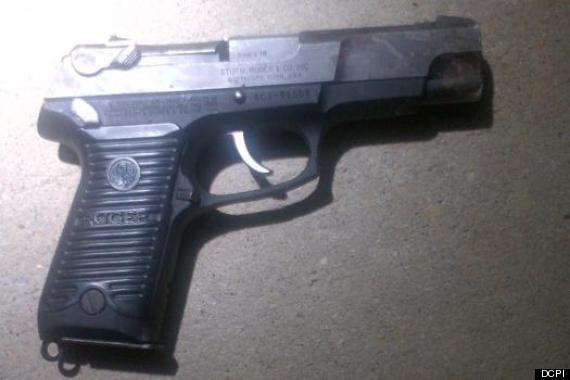 9mm handgun recovered from the scene in Queens