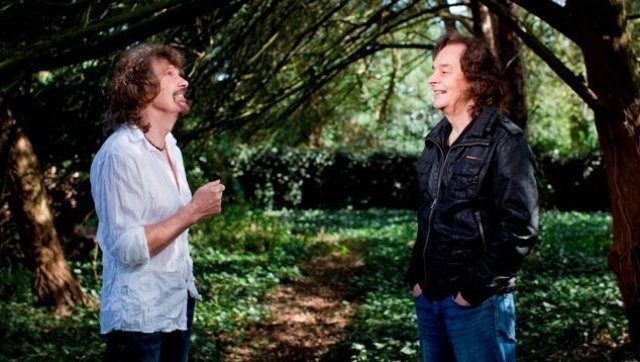 TOP 5 FOR THURSDAY, AUGUST 9
1. The Zombies At Howard Theatre
We don't usually recommend nostalgia acts. This is not a nostalgia act. Yes, they are a reunited group that had chart toppings hits in the '60s, but they're also releasing new material and appearing on World Cafe. They're still trying and still performing "She's Not There." We approve. 8 p.m., all ages, $45
2. "The Front Line" At Korean Cultural Center
Korea's submission for Best Foreign Language Film at the 2012 Academy Awards will screen at the Korean Cultural Center. Use the screening as an excuse to check out a venue you may not have known existed. 6:30 p.m., all ages, RSVP required
3. The Now of Social Media At Flashpoint
If you spend most of your work day looking at sites like this one and Facebook and back to this site and now Twitter and here's a cat on Facebook and now the spreadsheet, maybe it's time to get your social media life in order. 11:30 a.m., all ages, $10
4. [Missed Connections] At The Fridge
This new play explores the idea of identity in a post-apocalyptic world. Who would you become if everything was wiped clean? Part of the Fresh Produce series at The Fridge. 7 p.m., all ages, $10, through Sunday, August 19
5. "Lolita" At AFI Silver Spring
Kubrick's classic film based on the classic novel turns 50 this year. See it on the big screen. 6:30 p.m., all ages, $7 to $11.50
TOP 5 FOR THE NEXT 5 DAYS
Friday, August 10
Solidarity Concert for Pussy Riot outside of the Russian Embassy
Let's try this again.
Saturday, August 11
Trillectro at Half Street Fairgrounds
Our interview with concert organizer and DC to BC founder Modi has us excited for a new style of street festival. If the weather plays nice, this may set the standard for future outdoor music events.
Sunday, August 12
Evan Valentine Album Recording at Black Cat
The D.C. native is packing his bags for a more comedy-friendly city. This send off show will double as a recording for his first album give him a chance to revive his "THOR!!! the Musical."
Monday, August 13
Lucinda Williams at Birchmere
We all have those friends that love country music but don't like the country music that's played on the radio. They like Lucinda Williams. They're right in liking Lucinda Williams. Catch her with only one other person for this evening of intimate songs.
Tuesday, August 14
Baked: Stories about summer at Town Danceboutique
Speakeasy presents this evening of true tales about summer. We're almost done with the season so there's ample reason to believe that lurid and hilarious happenings will lead to some audio fun.
BEFORE YOU GO