This was an action-packed week at the Huffington Post Arts & Culture... that's right, Arts & Culture. The two pages expressed their love and got married creating the super page Arts & Culture.

Hear some warm words from Kathleen Massara on the merger:
"Throughout my days as the Arts Editor at HuffPost, I carried with me this quote from rock critic Ellen Willis: "Although I am by no means completely uncritical, I am willing to follow a song where it leads and suspend judgment for a while -- practically all noise is interesting in some way."

In other words, Willis is saying why not see where the work takes you, rather than dumping on it immediately? Why not foster creativity rather than squelch it? This view is echoed by Kimberly Brooks, the founding Arts editor, who is a practicing artist herself. In our minds, it was clear: Let's start a conversation on the page, rather than end it.

For the past two years, the Arts page has been putting a spotlight on big events and thought-provoking phenomena in the visual and performing arts, and for the past year, Culture has been actively covering theatre, film, music and dance. We've both tried to start conversations about our respective fields, and have been mostly successful. But we've also noticed that there's been so much overlap with our shared interests in these twelve months that we finally decided it was time to take the leap and join forces."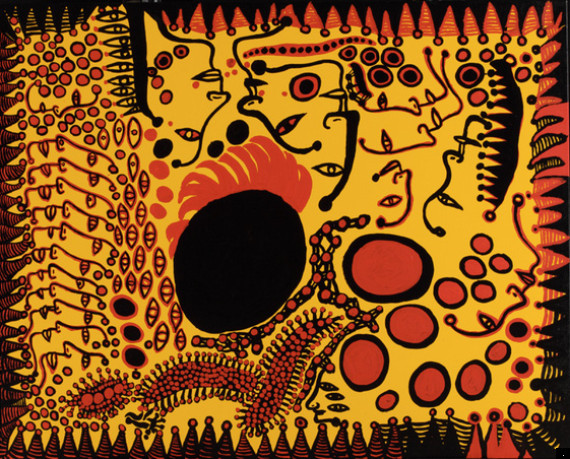 This is Yayoi Kusama's year. She collaborated with Louis Vuitton on a fashion collection and is now exhibiting a traveling retrospective, all while continuing to live in a mental institution in Japan. But who is this enigmatic woman?
The prolific Japanese artist presents her artwork and her personal narrative as one and the same; her dots, her art, literally manifest themselves on everything she sees, creates, is. Embedded in Kusama's retrospective at the Whitney Museum of American Art in New York are old family photos, depicting her years before the first time she hallucinated a polka dot. The first photograph shows a tiny Kusama swallowed whole by supernatural-looking petals. There is something strangely relevant, if not necessary, about the image, depicting this little Alice already in Wonderland -- her external surroundings mimicking her strong imagination and altered mental state. Her pictures of herself are dappled with dots; even at a young age, she presents herself as afflicted.
In order to learn more, we asked the polka dot queen some questions about her work. Her answers are mystical at best, evasive at worst, but we love her all the more for the terse delivery. Read the rare interview with the Pop Art legend here.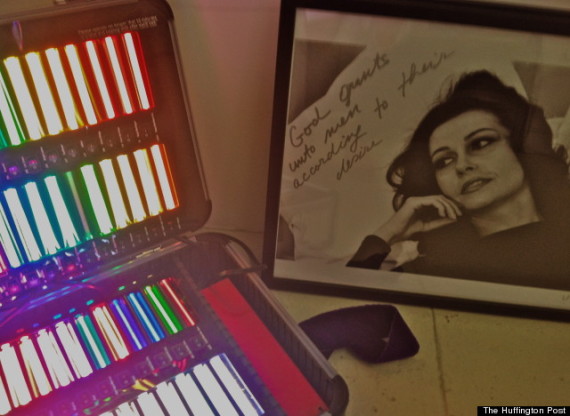 The famed '60s icon Ultra Violet, remembered by most for her association with the enigmatic pop-master, Andy Warhol, has invited us into her private world just one week before the 84th anniversary of Warhol's birth. In commemoration of her former companion, she has agreed to discuss with us something she rarely consents to addressing -- her past.
In her 1988 memoir, "Famous For 15 Minutes: My Years with Andy Warhol", Ultra Violet detailed the chaotic years of living with Andy Warhol and the eccentric members of the Factory. She found herself a "Superstar" among the Warhol disciples after leaving the muse-dom of her former mentor, Salvador Dali. The surrealist icon introduced her to Warhol in 1963, kicking off what would be a decade long membership in one of the most influential art collectives in the history of the art world. During the years of her Factory career, she would abandon her baptismal name, Isabelle Collin Dufresne, and transform into the Bohemian star of dozens of Warhol's experimental films, known only by her pop moniker, Ultra Violet.
Click here to read the entire interview with the 60's icon in honor of Andy Warhol's birthday.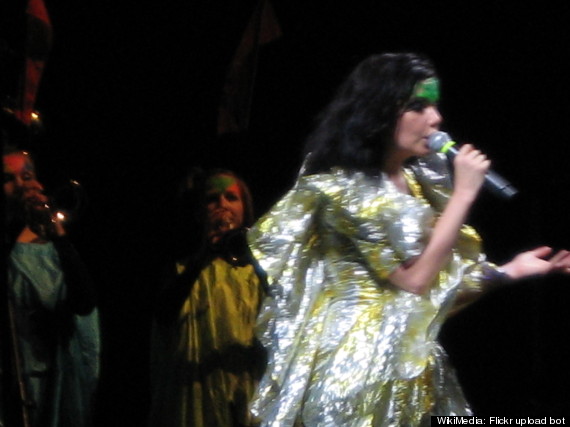 First came the Red Hot Chili Peppers, then came Madonna, and now Bjork has spoken out in support of Russian punk activists Pussy Riot on her website. Nadezhda :
"as a musician and a mother i would like to express i fiercely dont agree with them being put to jail because of their peaceful protest performance . they are currently standing trial and facing seven years in prison for this… in my opinion the russian authorities should let them go home to their families and children… "
We are not surprised that our favorite Icelandic songbird supports the brazen punk rockers, but it still feels good to see it in writing. Learn more about the Pussy Riot case here before the verdict on August 17, 2012. Our culture reporter Lucas Kavner investigated when classical music concerts became so... dull.
In 1913, classical music sparked a riot in Paris.
Igor Stravinsky was introducing his revolutionary "Rite of Spring" ballet to the world, with its discordant melodies and unorthodox choreography, and the purists in the crowd expressed their disapproval loud and clear. It might have been classical music's version of the time Bob Dylan went electric at the Newport Folk Festival.
"The noise, fighting, and shouting in the audience got so loud," NPR's music reporter Miles Hoffman said of the Stravinsky premiere, "that [the choreographer] had to shout out the numbers to the dancers so that they knew what they were supposed to do."
It's difficult to imagine a similar uproar occurring today within America's hallowed symphony halls. In fact, it's hard to picture any kind of unruly activity at all (unless someone's cell phone happens to go off, and then you'd better watch your back). A mannerly aura hangs over most classical proceedings, and many of the genre's biggest supporters would have it no other way.
Read more here.
Well, that was our week. Tune in to hear more about arts and culture on our new and improved page!