Are you a fan of Chris Hemsworth who doesn't like his work as Thor? Then, thus far, August has been your month. Last week, the first trailer for the hilariously delayed remake of "Red Dawn" debuted, offering Hemsworth fans the chance to see a different side of the God of Thunder: He plays a U.S. marine in the film who's tasked with saving America from invading North Koreans. (Just watch the trailer.)
Now comes a first look at Hemsworth in Ron Howard's racing drama "Rush" (not to be confused with the 1991 addiction-cum-crime drama starring Jason Patric and Jennifer Jason Leigh).
In the new film, Hemsworth stars as James Hunt, a charismatic English Formula One driver who had a fierce rivalry with Austrian driver Niki Lauda ("Inglourious Basterds" co-star Daniel Bruhl) during the 1970s -- particularly the 1976 Formula One season.
"Rush" marks Howard's first film since "The Dilemma" in 2011. Universal will release his latest on Sept. 20, 2013, a calendar position that helped launch "Moneyball" to Oscar gold last year and will potentially do the same for Paul Thomas Anderson's "The Master" this year. Peter Morgan, who worked with Howard on "Frost/Nixon," wrote the script.
The first images for "Rush" appeared online via the film's new website. Check out a look at Hemsworth as Hunt below.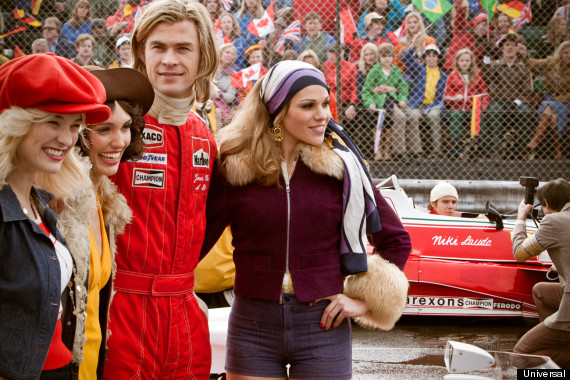 RELATED:
PHOTO GALLERY
'Avengers' Premiere Photos
BEFORE YOU GO