UPDATE: A new report reveals the dog was not killed in Monday's shooting and as of Tuesday evening is in serious condition.
EARLIER: NYPD officers shot and killed a dog allegedly guarding its passed-out owner on 14th Street and Second Avenue Monday afternoon.
Gothamist reports officers attempted to approach a man who was unconscious on the ground, when the dog "lunged" at police. A witness at the scene tweeted the owner was "doped out."
Famed chef Eddie Huang, whose restaurant BaoHaus is located at 238 East 14th Street, tweeted a photo of the incident with the message, "Pigs shot a dog and let it die slow."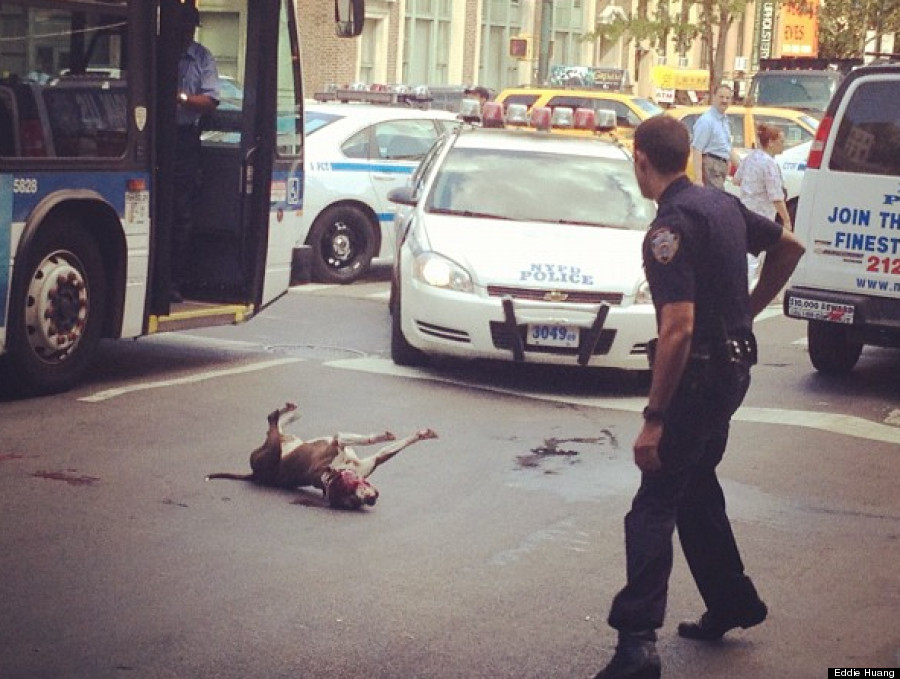 He explained to The Observer:
We heard the gunshot, and we all ducked, and saw people running and screaming. All of the sudden, our chef Mitch ran towards the gunshot. He was like Yo, it's that dog in front of KFC—because there's always this dog in front of KFC—and by the time I get there, I can see the dog whipping around and convulsing.
Apparently onlookers yelled at police to put the dog, "wiggling and flaying, blood coming out of its mouth," out of its misery.
Huang continued:
You can see in the photo, the trail of blood. The dog traveled. People were really really vocal, harassing the cops to put the dog down, and they wouldn't do it. The whole thing just seemed really, really unnecessary. I don't know what the protocol is for this, I know they have to keep the peace, but it really seemed like an abuse of power, an unnecessary one, and not doing it the right way. They really should've put that dog out of its misery. We've all seen Old Yeller. We all know the right way to do this.
Another witness tells Gothamist, "There was a little boy closer to the scene with his dad, and he started bawling. It was just very shocking to see an animal killed—as the owner of a shelter animal myself, it was just so sad."
This is the second time in three days that NYPD officers have opened fire in broad daylight near busy Manhattan intersection. Saturday, cops shot 12 bullets at a knife-wielding man in midtown. Darrius Kennedy would later die of his wounds.