In 1892, a statue of Christopher Columbus was erected near the southwest corner of Central Park, marking the 400th anniversary of his journey to America. And now, 120 years later, Japanese artist Tatzu Nishi will invite visitors inside a six-story living room encircling the famous Columbus Cirlce landmark: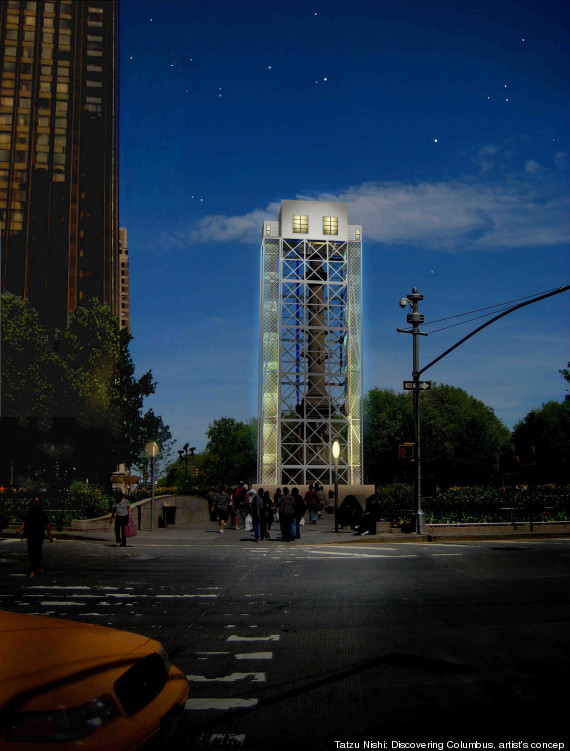 [Image: Tatzu Nishi: Discovering Columbus, artist's concept exterior; Courtesy of the artist and Public Art Fund, NY]
The Public Art Fund has commissioned the ambitious installation titled "Discovering Columbus" and announced:
[Nishi's] work will temporarily transform the traditional monument into a contemporary artwork, reshaping visitors' perceptions of both. And through large, loft-style windows, the work will grant visitors dramatic views of Central Park and Midtown Manhattan that can only be seen from Columbus's perspective.
Nishi will also design the interior of the living room, furnished with contemporary pieces from Bloomingdale's.
The New York Times reports the piece will require major cooperation from the city in order to ensure the installation's safety, access for the handicap, and of course, the protection of the statue itself, which was erected 1892.
Mayor Bloomberg said in a statement, "It makes perfect sense for this innovative artist's first North American installation to be staged in New York City, which has always been home to groundbreaking public art. This is sure to become another must-visit attraction for the millions of tourists who will visit New York City this fall to enjoy our vibrant cultural institutions and art scene."
"Discovering Columbus" will open from September 20 to November 18.
Correction: A previous version of this article incorrectly stated that Nishi's art installation was to celebrate the 400th anniversary of Columbus's trip across the Atlantic. In fact, Columbus crossed the ocean blue 520 years ago, in 1492.
BEFORE YOU GO