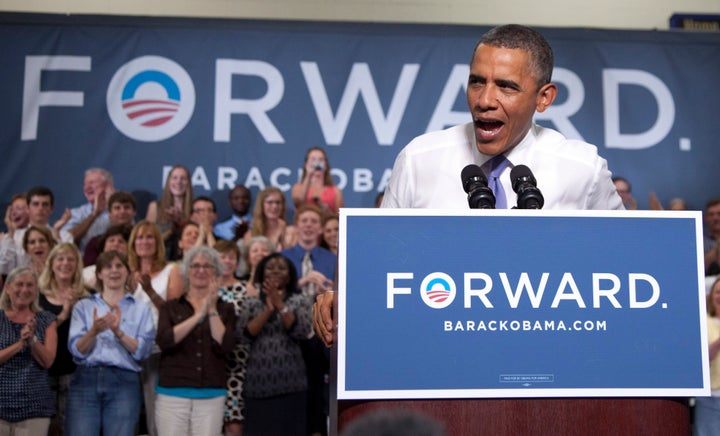 Voters are allowed to kick a likable guy out of office.
That's the core message in the second phase of Americans for Prosperity's largest ad campaign -- a $25 million anti-Obama blitz that started last week with a 30-second ad highlighting the "one-term proposition" that the president offered in a 2009 interview.
On Tuesday, the non-profit advocacy group backed by billionaire industrialists Charles and David Koch unveiled a minute-long TV spot that it said will air starting Wednesday in 11 battleground states. Among those markets is Wisconsin, the home state of Mitt Romney's newly minted running mate Paul Ryan.
The $7 million ad buy features several former Obama supporters sharing frustrations with the president's first term, claiming to personally like him, but disapproving of his policies.
"I think he's a great person," one person says. "I don't feel he is the right leader for our country, though."
Another adds that she still believes in the hope and change message Obama touted in 2008, but "just doesn't think Obama is the way to go for that."
Last week, Americans for Prosperity announced it may spend as much as $27 million on its largest ad offensive. The group's first entry, which cost the same amount and ran in the same states as Tuesday's TV spot, aimed to hold Obama accountable to his promise to not to seek a second term if he could not rescue the economy.
An Americans for Prosperity spokesman said Tuesday that each future spot will feature a different anti-Obama message.
According to ABC News, Americans for Prosperity had already poured $17 million into the current election cycle before its latest crusade.
The latest installment in the massive Americans for Prosperity campaign arrived the same day that the Republican National Committee released two new ads, one of which also dings Obama for failing to deliver the transformative political vision he promised.
"What if it had been your name they were chanting?" a narrator asks over footage of Obama's victory speech in 2008. "What if America had given you the power? Would have spent trillions overhauling health care while millions were without work? Would you have tried creating jobs by creating debt? Would you have raised taxes and broken promises?"
In the other RNC ad, a narrator lists gloomy unemployment numbers before asking why so many Americans are not working if Obama's economic plan has "worked," an apparent reference to one of his stump speeches.
"Four years ago Americans entrusted that President Obama would truly bring 'Hope and Change' to Washington," RNC Chair Reince Priebus said in a statement accompanying the new ads. "It is clear that he has failed to live up to his promises and has left our country with a mountain of debt and a health care bill that has cost the taxpayers trillions."
The RNC did not indicate where the the fresh pair of 30-second spots will air or how much they cost, according to The Hill.
Watch the three new ads below:
BEFORE YOU GO
PHOTO GALLERY
Donors Giving $500,000-Plus To Super PACs