Update: You have spoken! Our next book has been decided and more information will be announced this week in the book club newsletter.
We're wrapping up our reading of Ernest Hemingway's "The Sun Also Rises" and so, it's that time you've all been waiting for. It's time to pick the next book.
Each HuffPost Books editor has decided on what we'd like to read, and we want you to vote on the four below and tell us which book we should discuss in September. With so many established authors coming back with new material this fall, we wanted to revisit their original heralded works. Here's who we're looking at:
"The Brief, Wondrous Life of Oscar Wao" by Junot Diaz. Zoe says: Both "The Brief, Wondrous Life of Oscar Wao" and "This is How You Lose Her" are simply brilliant books. However, "Brief, Wondrous Life" is, I think an essential read before "This Is How You Lose Her" (it's narrated by the same character). "The Brief, Wondrous Life" both brought me to tears and made me decide to plan a trip to Central or South America with a good girlfriend. It also won a Pulitzer. What more could you ask for?
"The Ghost Map" by Steven Johnson. Andrew says: It's a nonfiction book as exciting as any thriller, about mapping, cholera, networks, infographics and how we understand the world around us.
"The Broom of the System" by David Foster Wallace. Maddie says: The first novel by the late, famous essayist and novelist gives you a sampling of the absurdism, smart humor and wordplay found in his more daunting classic, "Infinite Jest." "The Broom of the System" is about a young woman who works at a literary magazine when her grandmother goes missing. Strange relationships, family quarrels and talking animals ensue. Coming soon, you can read his posthumous essay collection, "Both Flesh and Not."
"Atonement" by Ian McEwan. Annemarie says: While "Sweet Tooth" is supposed to be amazing, I'm really interested in "Atonement" as one of those books that people really feel that they should have read, but just never got around to. Plus who is a better writer to usher us into fall than McEwan?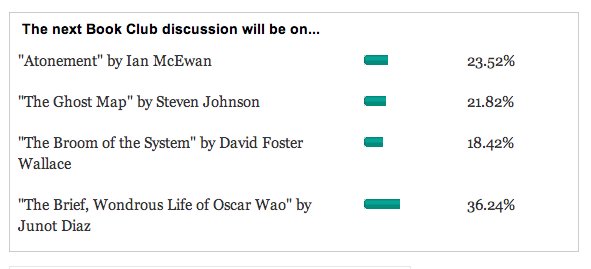 BEFORE YOU GO
PHOTO GALLERY
HuffPost Book Club Choices