We couldn't muster much excitement over the NFL's new ad campaign, "My Team." Sure, there's some new womenswear apparel involved, but most of it is of the sports jersey variety (i.e. not our jam). But turns out the NFL has picked some pretty awesome football fans to model their favorite jerseys, including HuffPost Style fave Condoleezza Rice!
In her modeling debut, the former Secretary of State wears a fitted brown jersey of her favorite team, the Cleveland Browns. To the NFL's credit, they've got their models styled fairly well: complementing Condi's jersey is a classic beige trench, a bright orange scarf and a delicate necklace. Nothing too flashy, but more "fashion" than a foam finger and some beer goggles.
Rice posted her modeling shot on Facebook, writing, "Supporting the NFL and showing my passion for the Cleveland Browns!"
Not only is it a pretty fun gig for Rice, but it's a nice little gift to her fans -- after all, we won't be seeing a Romney-Rice ticket as we once imagined. Plus girl looks good in a jersey. Kinda makes us want to buy our own...
Check out Rice's glamorous model shot below.
PHOTO: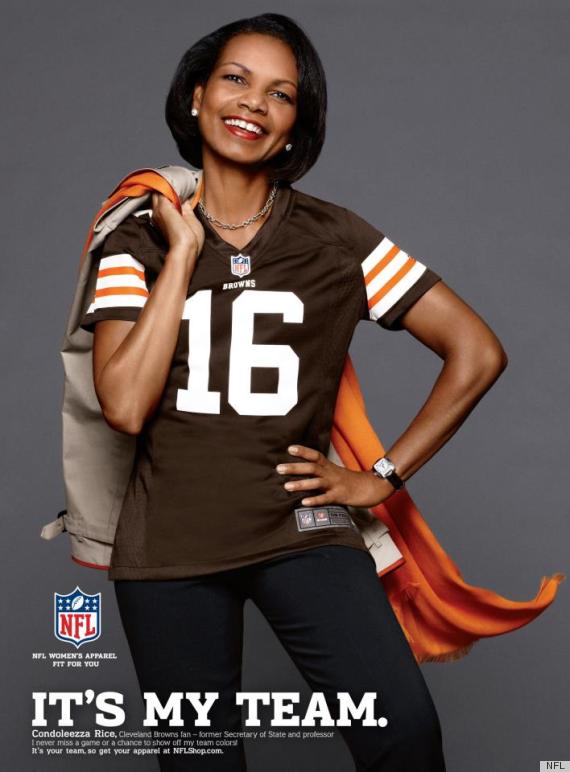 See Condoleezza's past fashion choices:
PHOTO GALLERY
Condoleezza Rice
Want more? Be sure to check out HuffPost Style on Twitter, Facebook, Tumblr and Pinterest.