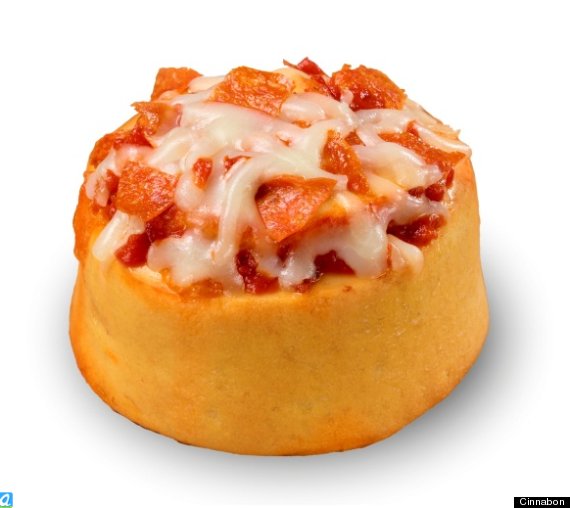 A few months ago, DudeFoods.com introduced us to the monster that is the Cinnaburger. This homemade creation consisted of -- you guessed it -- a Cinnabon and a burger. We're wondering if Cinnabon (the company) was inspired by this monstrosity, as their concept store location in Atlanta now offers the Pizzabon. This is not an April Fool's joke, and the only reason we are sure of that is because it is the month of August.
Cinnabon, which is headquartered in Atlanta, has opened a bakery-cafe location in Atlanta's Cumberland Mall that offers test products not available anywhere else. Beyond the Pizzabon, they are testing a new croissant, an apple danish, cupcakes, breakfast sandwiches and iced coffees, reports the Atlanta Journal-Constitution. The grand re-opening for the location is today.
HuffPost Food spoke to Cinnabon spokesperson Rachel Hadley -- who confessed that the Pizzabon was her favorite item out of all the ones they are testing -- to get the details on this creation. The Pizzabon doesn't actually have any cinnamon in it, but instead uses the same dough that is found in Cinnabons. It is topped with marinara sauce, mozzarella and pepperoni. Will the Pizzabon ever go national? "We're hoping," says Hadley. It all depends how the testing goes.
John Kessler, the restaurant critic at the Atlanta Journal-Constitution has been having a mini-field day about the Pizzabon on Twitter. We can't really blame him.
If you happen to be at Cumberland Mall this Saturday, you might even get to try the Pizzabon for free.
UPDATE 8/15: A blogger for Slice, the pizza blog, sampled the Pizzabon. The verdict:
I never DIDN'T go to Cinnabon because they didn't offer a savory snack version that tasted like a pizza. I'd never get a Pizzabon AND a Cinnabon together (just typing that made me bloated and sleepy)... and I certainly wouldn't do the walk of shame up to a Cinnabon without getting the syrupy-sweet version (because I'm a weak, weak man)... so I'm not sure when or why I would seek out a Pizzabon again.
BEFORE YOU GO
PHOTO GALLERY
Cinnaburger