Actor Ezra Miller came out as queer during a recent interview with Out magazine.
Miller, best known for his roles in "City Island" and "We Need To Talk About Kevin," is not only preparing for his debut in "The Perks of Being a Wallflower," but he is also ready to reveal his true self to the world.
In the candid interview with Out, Miller said:
I'm queer. I have a lot of really wonderful friends who are of very different sexes and genders. I am very much in love with no one in particular. I've been trying to figure out relationships, you know? I don't know if it's responsible for kids of my age to be so aggressively pursuing monogamous binds, because I don't think we're ready for them. The romanticism within our culture dictates that that's what you're supposed to be looking for. Then [when] we find what we think is love -- even if it is love -- we do not yet have the tools. I do feel that it's possible to be at this age unintentionally hurtful, just by being irresponsible -- which is fine. I'm super down with being irresponsible. I'm just trying to make sure my lack of responsibility no longer hurts people. That's where I'm at in the boyfriend/girlfriend/zefriend type of question.
The writer of the article, Shana Naomi Krochmal, tells The Huffington Post she routinely asks interview subjects to describe their sexuality in their own words, but was surprised by how Miller made the first move.
"We played a little phone tag before actually getting on the phone, and in one voicemail he left me, he actually said, 'I'm excited to talk to you about being out of the closet. It sounds fun,'" Krochmal told HuffPost Gay Voices. "I still wasn't sure if he was serious or joking around about the interview being with the gay magazine. But when we started talking, he immediately opened up about his feelings for other boys as a kid and how he was targeted by other kids for being gay."
Krochmal, adds, "Though I'll happily accept just about any label someone throws my way, I consider myself queer, too. And I loved how gender inclusive he was -- for him talking about being queer seemed to inherently mean thinking about not just boyfriends or girlfriends but also a genderless or genderqueer zefriend."
Earlier this year, Miller divulged that he had had gay encounters as a youth.
"I've had many, you know, 'happy ending sleepovers' in my early youth," he told Next Magazine in January. "My period of exploration -- I think that's essential. Anyone who hasn't had a gay moment is probably trying to avoid some confrontation with a reality in their life."
The 19-year-old's coming out will surely not overshadow his upcoming role in "The Perks of Being a Wallflower," out Sept. 14. Although his resume might not be too lengthy just yet, Miller has been touted as a "star on the rise" since last year, and that star is about to shoot a whole lot higher.
Miller takes on the role of Patrick, the gay stepbrother of Sam (Emma Watson), the object of main character Charlie's (Logan Lerman) affection and a girl way too out of his league. Patrick is gay but closeted and keeps his boyfriend a secret.
The film touches home for Miller, who was mocked as a child for having a speech impediment and then for his sexuality.
"I was trying to kiss boys in school," Miller he told Out's Krochmal, before revealing how a best friend he had fooled around with turned on him. "He had some macho realization that led him to believe that I was the problem. So I went from having a stutter to being a totally gay little opera singer to being, like, a really confused queer adolescent."
"I just want kids in all situations to hold on," he added. "A lot of [adolescence] left me wanting to end my own life, just give up. It feels like the whole world -- because it is. It's your whole world. But, man -- life is a really, really cool ride. It's really amazing the type of shit you can get up to if you endure. Like, you can do anything you want if you can survive."
Click over to Out magazine to read the full story. The September issue of Out will hit newsstands on Aug. 21.
LOOK: Ezra Miller featured in Out magazine.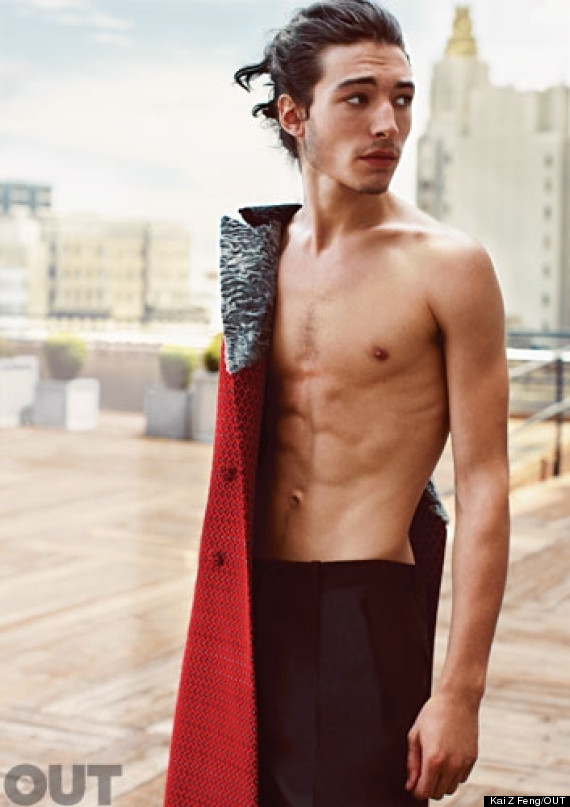 BEFORE YOU GO
PHOTO GALLERY
Celebrities Who've Come Out As LGBT