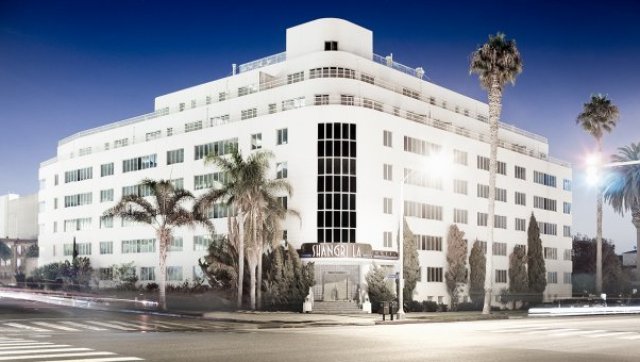 A jury determined Wednesday that the owner of the Hotel Shangri-La in Santa Monica discriminated against Jews during a charity event in July 2010. The owner reportedly yelled "Get the [expletive] Jews out of my pool!" and forced the party to pack up and leave.
The owner, Tehmina Adaya, a Muslim of Pakistani descent, denied charges that she made anti-semitic statements and discriminated against the Jewish group.
On the day in question, 18 young leaders of Friends of the Israel Defense Forces were holding a charity event at the hotel to help children of fallen IDF soldiers go to summer camps, the Jewish Chronicle reports.
Former employee Nathan Codrey testified that Adaya exclaimed, "Oh, my God," upon discovering who the group was and seeing its banner and leaflets, the New York Times reports.
Codrey also testified that Adaya repeatedly used profanity as she ordered her employees to stop the event. "If my [family finds] out there's a Jewish event here, they're going to pull money from me immediately," she said, according to Codrey. Soon after the event began, staff and security guards told group members to remove their literature and get out of the pool, according to testimony.
Adaya emphatically denied the charges, saying at one point "I did not, how could I? My family knows I have so many Jewish friends," the Times reports. She said she grew up as the only Muslim child going to primarily Jewish schools in LA.
The jury found that almost every one of the 18 individual plaintiffs had suffered negligent emotional distress and that most had also suffered intentionally-inflicted emotional distress, the Jewish Journal reports. Some individual plaintiffs will receive more than $100,000 in penalties, totaling $1.2 million to the group. That number is expected to rise much higher because the plaintiffs are also entitled to punitive damages, which are scheduled to be decided on Thursday, the Jewish Press reports. The plaintiffs' attorney, James Turken, is also entitled to collect attorney's fees from the defendant.
"This is a home run for the plaintiffs," Turken told the Los Angeles Times.
"As a Jew, I took this case very personally, but the plaintiffs made it a pleasure -- I was honored to represent them," he told the Press, adding that the plantiffs are "the very best we have to offer, these are young people trying to make a difference, who volunteer for all kinds of charities."
Adaya's lawyers said that the Jewish event was shut down because the promoter that the group went through did not prearrange the event with the hotel.
Hotel Shangri-LA is a favorite celebrity spot, and guests have included Madonna, Tom Cruise, Sean Penn, Bill Clinton, Bill Murray and others.
BEFORE YOU GO
In another case of anti-semitism in Southern California this year, three girls vandalized the home of a fellow student with swastika graffiti and feces. Comedian Jon Lovitz took up the victim's cause with a series of tweets.