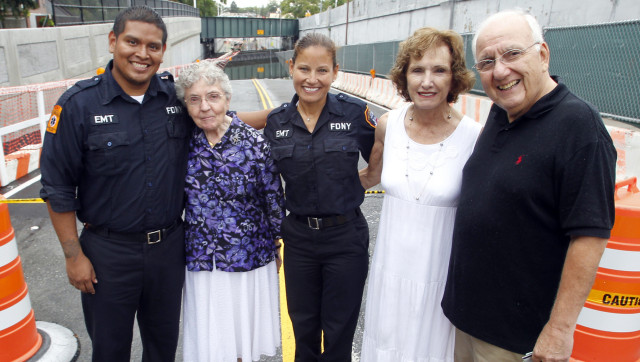 It was either divine intervention or just FDNY EMTs doing their job; either way, a nun and her two friends are happy to be alive today after nearly drowning in a flash flood Wednesday.
The New York Daily News reports that Sister Claudia Bradshaw was returning from lunch with two friends when they undestimated the depth of water on the road under an overpass in Queens. When their car stalled out, floated for a bit, and then water began pouring through the air conditioning vents, 86-year-old Bradshaw says she began to pray.
Also in the car, according to CBS 2, were Sister Bradshaw's friends Mary and Joseph (no joke), who called 911. While waiting for firefighters to respond, and with water now up to Bradshaw's neck, the trio caught sight of an EMT crew and hastily flagged them down.
"They were yelling, 'Help us, help us,'" said Marilyn Arroyo, one of the responding EMTs, in an FDNY press release. "We really just didn't think at all. I just wanted to get there get them out."
By this point the water was so deep that Arroyo and her partner, Jimmy Guailacela, had to swim through rushing water toward the car, especially challenging for Arroyo, as she reportedly doesn't know how to swim. She reached the roof of the car by climbing on a nearby fence and pulling one man to safety via the sunroof.
Her partner, meanwhile, helped Bradshaw swim to safety. Just after both EMTs helped pull the third person from the car, it became completely submerged.
When another crew of emergency workers responded (the ones Joseph had called earlier), "You couldn't see the vehicle at all," said EMS Lt. Mary Merced. "I couldn't even tell you what color it was."
BEFORE YOU GO