Good news for television and political reporters! You're not the only ones who people don't trust as much anymore.
A new study from the Pew Research Center finds that, across the board, people find the media less believable than they once did:
For the second time in a decade, the believability ratings for major news organizations have suffered broad-based declines. In the new survey, positive believability ratings have fallen significantly for nine of 13 news organizations tested. This follows a similar downturn in positive believability ratings that occurred between 2002 and 2004.

The falloff in credibility affects news organizations in most sectors: national newspapers, such as the New York Times and USA Today, all three cable news outlets, as well as the broadcast TV networks and NPR.
The bloodshed is everywhere. Overall, the media's believability has fallen by 15 points, from 71 percent to 56 percent, in ten years. In that time, the believability of every institution but local news and local newspapers has fallen by double digits.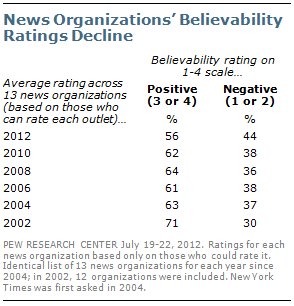 Looking on the bright side, the media has something to cheer: the majority of people still find it believable. But the downward trend won't have to continue much longer for that statistic to be wiped away.
It's not a surprise that people have soured on the media. In recent weeks, both television news and the political press have been roundly panned in polls.
BEFORE YOU GO
PHOTO GALLERY
2012 Newspaper Circulation Numbers