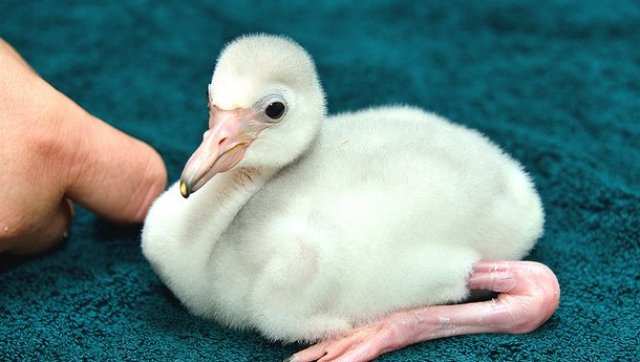 WASHINGTON -- Hi there fluffy little guy. Or gal.
The National Zoo isn't sure yet if their new baby flamingo -- baby flamingo! -- is a boy or a girl. What we can be sure of is that the downy little bird is awfully cute. And long-legged.
The baby hatched on July 29. According to a media release, the zoo's flock of 63 birds produced an abnormally small number of fertile eggs this year due to irregular mating patterns, so this newborn is being raised by hand. (The zoo has historically found flamingo breeding to be a challenge.)
Perhaps you've noticed that the new bird's not yet vibrant pink? Keepers recently added "flamingo pellets" to the diet. These pellets contain the carotenoid pigments that'll change his or her feathers bright. By the baby's first birthday, the feathers will be light pink -- they should be bright pink once she or he turns two, by which point hopefully we'll also know which pronoun to use.
The baby will go on display for visitors in the coming months -- till then check out our new chick in the slideshow below:
PHOTO GALLERY
Baby Flamingo
And surely you want to know more about the tall pink birds that stand on one foot much of the time. This Scientific American blog post has great flamingo information, like the most recent ideas as to why flamingos usually stand on one foot. (It's probably to keep warm.)
More still: Here's a strange tale about how a British zoo got its reluctant flamingos to reproduce. And here's a completely fascinating explanation for how -- and why -- flamingos keep their color from appearing faded in the sun.
BEFORE YOU GO