For the second time in less than a year, Mayor Bloomberg was caught smooching with someone other than longtime girlfriend Diane Taylor.
And like the previous lip-lock-- Bloomberg's festive kiss with Lady Gaga on New Year's Eve-- Thursday's incident came sans scandal.
Rather, the mayor shared an intimate moment with a sea lion at the New York Aquarium on Coney Island, where he announced the aquarium would be receiving a $7.5 million gift and a brand new shark tank.
Bloomberg said, "From the start, the exciting expansion and renovation of the New York Aquarium has been a vital part of our efforts to revive Coney Island. The project is going to make the Aquarium much more visible and visually exciting to Coney Island's thousands of visitors—from those strolling the Boardwalk to others visiting the Aquarium itself."
A rendering of the shark tank: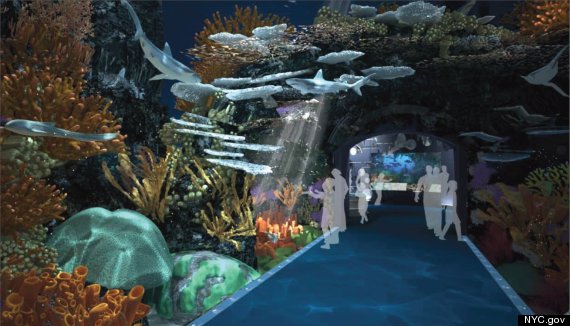 The mayor also took the opportunity to dole out a few puns, "Here in New York, we do frown on loan sharks, pool sharks and card sharks. But the aquarium sharks are another kettle of fish."
Bloomberg's pressers are no stranger to cringeworthy puns. Check out some of the best/worst from July's hot dog eating weigh-in below:
BEFORE YOU GO
PHOTO GALLERY
Mayor Bloomberg's Hot Dog Puns