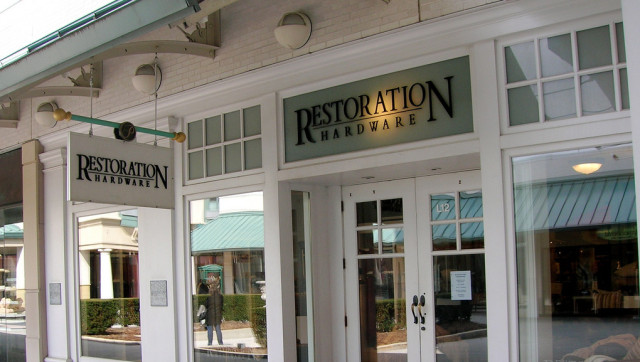 There are many misgivings about covering the home beat. The main one? That absolutely nothing happens, and that scandals are limited to somebody, say, daringly mixing-and-matching pillows. Not so. The industry is just as ripe for top brass behaving badly as any other. Exhibit A: Gary Friedman, Restoration Hardware Chairman and Co-Chief Executive, is stepping down from his post following an internal inquiry of a relationship with a 26-year-old employee, New York Times Dealbook writer Andrew Ross Sorkin reports.
The relationship came to light earlier this month, in a very soap opera-worthy way: An ex-boyfriend of the employee (who is no longer with the company) told the board of Restoration Hardware. After an internal investigation, the board confronted Friedman, who asserted that the relationship was consensual. Friedman, who is divorced, is still involved with the former employee. (Now that's devotion.)
The timing on this move isn't exactly ideal (as if there is a good time for something like this to happen), as Restoration Hardware gears up for a 150 million dollar IPO. However, the popular purveyor of all things artfully weathered and worn does not plan on completely cutting ties with Friedman. According to the Wall Street Journal, Restoration Hardware has given him an advisory role, and the retailer will hold a minority stake in Heirarchy, a company Friedman created that will focus on apparel and accessories. Not so bad, right?
Perhaps this is because Friedman's vision has become intertwined with the retailer. As ABC Carpet and Home co-founder Evan Cole said in a 2011 Wall Street Journal profile of Friedman: "Restoration Hardware is dead. It's become a Gary Friedman interpretation of home furnishings."
Overall, we don't think this will negatively impact the IPO or the business as a whole. But it does go to show that one's personal life can impact one's professional life...especially when you're at the chairman or CEO level.
A letter from Friedman in a recent edition of the Restoration Hardware catalog says:
In the spirit of "just being me," we will continue to push the boundaries, be authentic to our own unique point of view, never tire, and refuse to act our age. Because we, like the Stones..."Can't get no...satisfaction."