Kim Kardashian is doing her best Little Mermaid impression in a new photo she posted to Twitter on Aug. 17 -- and we're just not feeling it.
"Night Swim," wrote the 31-year-old reality star, who looks like she might have washed up on shore, as she's writhing on the beach in a skimpy black bikini. Kim also posted another photo from the night shoot, in which she's emerging from the water, with her breasts thrust forward and her hair slicked to her head. We know Kim is going for the whole sexy beach vibe, but we're kind of creeped out by her dead eyes looking straight at the camera.
It's not her best photo shoot, but when you post scantily clad photos of yourself on a near-daily basis, we have plenty to compare it to. It's not clear where or when this photo was taken. Earlier this week, Kim and boyfriend Kanye West were spotted in Hawaii, and yesterday, Kim posted another set of bikini photos to Twitter and captioned them "Aloha," which had everyone thinking that it was a photo from her current vacation. Strangely enough, the photos were actually previously unreleased pics from a 2009 photo shoot in the Bahamas.
PHOTO: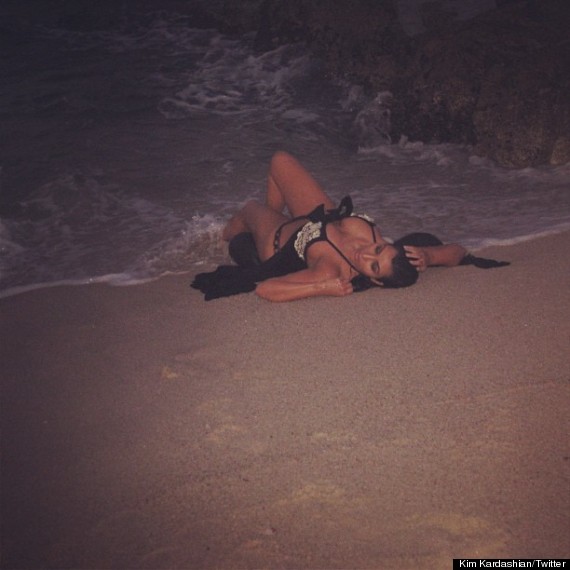 PHOTO GALLERY
Celebrities Hit The Beach & Pool
BEFORE YOU GO