Megan Rossee, Michael Phelps' girlfriend and an aspiring model, knew how to turn heads on the beach in Santa Monica the old-fashioned way: a barely-there swimsuit.
Rossee scampered in the water in a (gold medal-inspired?) metallic bikini, playing volleyball with pals and romping in the waves. The 5 foot 10 inches blonde beauty, who once dated Zach Braff, also showed off her belly button piercing.
Since news emerged that Rossee is dating Phelps, 27, rumors have flown that the 25-year-old is "fame-hungry" and out to bump up her own modeling career by hooking up with the most decorated Olympian of all time. (She did recently quit her day job as a cocktail waitress.)
Megan recently removed her Model Mayhem profile from the modeling database, but it was still live as of August 7, when we read that the past couple of months have "turned out to be very busy" for her and that as a result, she'd no longer accept any unpaid modeling gigs without hair and makeup.
Rumors aside: between his 22 Olympic medals and Megan on his arm, Phelps is a lucky dude.
Check out Megan's hot bikini below, and see more pics of the couple together.
Scroll down for more photos.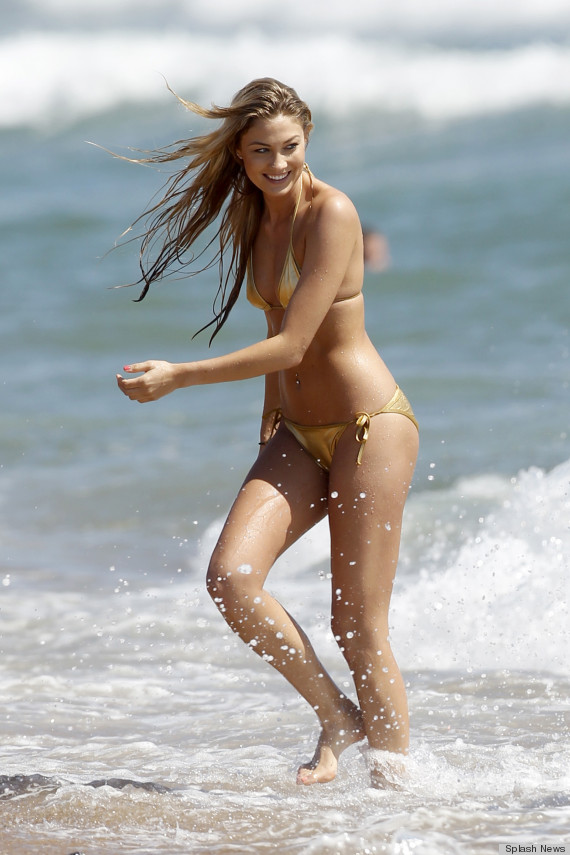 Check out these pics of Michael & Megan from Megan's Instagram!
PHOTO GALLERY
Megan Rossee's Instagrams
Want more? Be sure to check out HuffPost Style on Twitter, Facebook, Tumblr and Pinterest.
BEFORE YOU GO