Feel strongly about Kristen Stewart and Robert Pattinson's heartbreaking cheating scandal? Well, you're in luck because you now have a t-shirt to share your stance with the world.
Online retailer Skreened is offering t-shirts emblazoned with the phrase "Kristen Stewart Is A Trampire" (you know, that damning word Will Ferrell used to describe the actress on "Conan"). If you're not too into the "T" word, shirts that say "Robert Pattinson Deserves Better" and "Kristen Stewart [expletive] Sucks" are also available on the site among other variations on the theme.
These biting tops will only set you back about $20 -- a small price to pay for voicing your opinion on this oh-so-important matter, right? And, as an added bonus, there are also shirts that say "Team Kristen For Life" for those who have a less harsh opinion of the 22-year-old (we're looking at you, Jodie Foster). While we're not overly-enthused about taking a side in this scandal, we can imagine that there's a pretty big market for these t-shirts. Would you wear one?
PHOTO: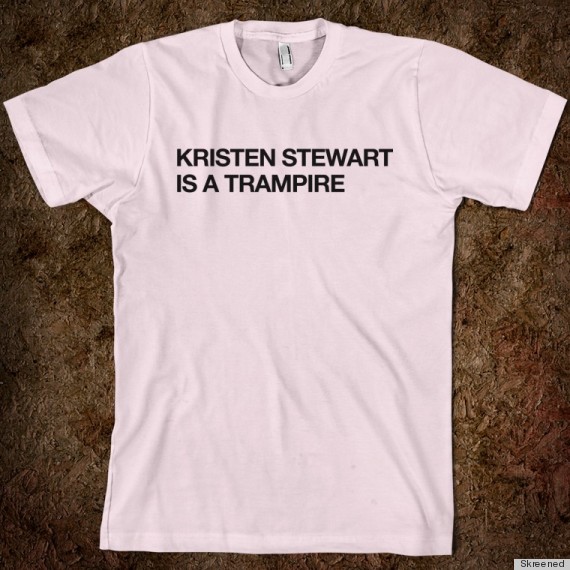 To help you decide which shirt to buy, here's a look at the defunct couple in question.
PHOTO GALLERY
Kristen Stewart & Robert Pattinson
Want more? Be sure to check out HuffPost Style on Twitter, Facebook, Tumblr and Pinterest.
BEFORE YOU GO