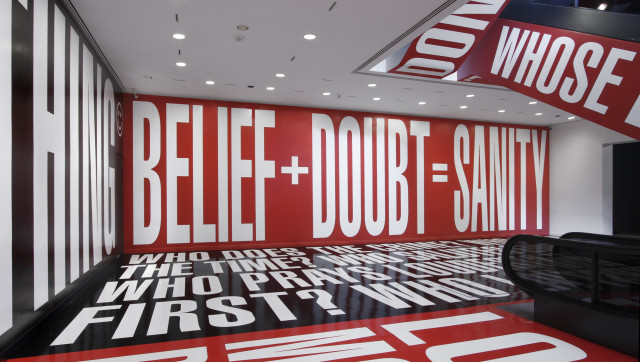 WASHINGTON -- The Hirshhorn Museum's Barbara Kruger exhibition, 'Belief+Doubt' is huge. Literally.
Earlier this year the museum staged "Song 1," an outdoor spectacle featuring orignal music and larger than life projections. They've moved indoors for the gigantic new Barbara Kruger exhibit.
Beginning this week and running until 2014, "Belief+Doubt" will cover 6,700 square feet of surface with bold slogans that are 12 feet high, and black and white and re(a)d all over.
Kruger is best known for pieces like "I shop therefore I am" -- work that combines political and socially-aware slogans with photography.
"Belief+Doubt" wraps the museum's lower level in slogans: "Hoard It," "Crave It," "Break It," "Return It;" and "WHO IS BEYOND THE LAW? WHO SPEAKS? WHO IS SILENT?" and "BELIEF + DOUBT = SANITY" among them. (The slogans extend into the gift shop. The irony/wit in that has already been noted.)
Click below to see a sample of what 6,700 square feet of slogans looks like -- story continues below.
PHOTO GALLERY
Barbara Kruger Belief+Doubt
The full exhibition, unveiled this week, has received effusive praise.
It's also received some criticism. Kriston Capps argues in Washington City Paper not that "Belief+Doubt" isn't a successful exhibition, but that it's too safe:
[Kruger] is ubiquitous, one of the few contemporary artists in recent decades who could be called a household name. There is no risk in bringing her to the Hirshhorn.
Museum director Richard Koshalek explains in a media release why "Belief+Doubt" is indeed the right exhibition for the Hirshhorn:
Barbara Kruger's work interrogates the way power and money flow in contemporary society. Having her intervene in a part of the building that is at once a social site and a place of commerce amplifies both her concerns and those of the Hirshhorn.
Not sure what to make of "Belief+Doubt"? That's OK, too. "Doubt is important. And for some people, it's something to be feared," Kruger told The Atlantic. "I think doubtlessness can be very scary."
"Belief+Doubt" will be showcased in the Hirshhorn through 2014. Barbara Kruger will be at the museum to discuss her work on December 13 as part of the Meet the Artist series.

BEFORE YOU GO