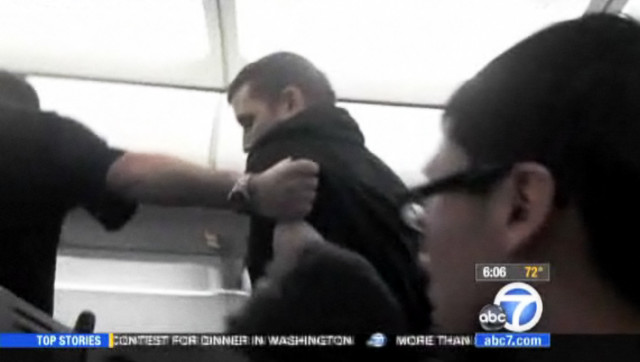 When a JetBlue flight made an emergency landing in Denver to boot an unruly passenger, almost everyone was relieved –- everyone except for the man sitting next to the unsettled flyer.
The JetBlue flight headed to Los Angeles from New York diverted to Denver on Sunday night after Marcus Covington allegedly groped a pregnant woman and refused to stay in his seat, 9 News reports. But as the commotion unfolded, Los Angeles producer Cassian Elwes made an attempt to calm down the former Marine, an experience that led him to reflect on Twitter what it means to return from war with psychological wounds (h/t BuzzFeeed).
I realize the point is these wars are fucking with our children's minds. A whole generation is being sent home screwed up.

— cassian elwes (@cassianelwes) August 20, 2012
The producer of "Blue Valentine" volunteered to sit next to Covington, who has been charged with interfering with the duties of a flight crew and flight attendant, when the couple in his row became fed up with his antics. The Chicago man tore up and licked magazines and threw vodka in an air marshal's face, according to Elwes' tweets.
He tried making small talk with the agitated passenger, as the flight staff determined how to handle the situation, and quickly learned some of the details of Covington's troubled past.
The 32-year-old told Elwes that his father killed his grandfather (who was a "bad man") and that he joined the Marines to quit drugs. He downed handfuls of green pills at points during the flight that turned out to be a drug used to treat anxiety.
I find one of the pills on the floor and the nice lady in front googles it on her phone. Its clonazepam a drug for bi- polar anxiety. Heavy

— cassian elwes (@cassianelwes) August 20, 2012
As the two swapped stories, Covington revealed that he writes, but would never be able to put into words what he witnessed while serving.
"I don't want to talk about it," Covington told Elwes. "I've seen shot [sic] no man should ever see."
They exchanged emails, Covington pleaded that Elwes not forget him and then he offered the producer a gift -- a patch printed with the word "Stay," which refers to remaining sober.
He pulls out this patch that says 'stay' on it twitter.com/cassianelwes/s…

— cassian elwes (@cassianelwes) August 20, 2012
The pair was getting on so well that Elwes told the air marshall that he could keep Covington entertained for two hours, until the flight landed, but it was too late at that point. The decision had been made to make an emergency landing in Denver.
After he was handcuffed and escorted off of the plane, Covington kicked a chair, spat on police officers and threatened to kill them, News 9 reports. He faces up to 20 years in prison if convicted.
While authorities and frustrated passengers were certain that they were dealing with an erratic criminal, Elwes felt differently, and set out to open up the conversation to the impossible trials military members face when they come home. When he sat down to his computer at 3:45 a.m. on Monday to document his experience, Elwes vowed to -- at the very least -- tell another side of Covington's story and keep his struggles in mind.
"We all love the ones we hate. Blood. Lust. I was born in queens. We all lose hope," the letter Covington wrote Ewles on the plane said. "Marco I won't forget you I promise."
BEFORE YOU GO