Although Patti Smith's photographs are often images of objects owned by her idols, they reveal an intimate image of Smith herself. Perfectly imprecise, filled with light yet heavy with depth, the photographs showcase Smith's original style that appears fully effortless. Her collection of 70 photographs, taken with a Polariod Land 250 camera, will be on view for the first time in Canada this spring. Titled, "Camera Solo," the exhibition is heading to the Art Gallery of Ontario in Toronto this coming February.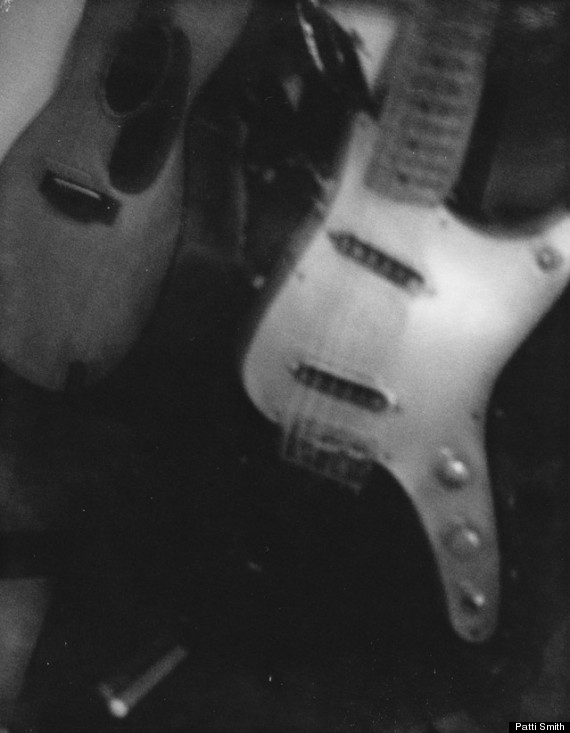 The musician, poet, author and artist, beloved for her influence on the punk scene in the 1970s, began experimenting with photography after the death of her husband, Fred "Sonic" Smith, a member of the Detroit rock band MC5. Smith recalled to James Adams at the Globe and Mail:
"I was so exhausted from grief, I suppose, and from having two small children that I found myself unable to do much of anything except take care of them. Yet I found the desire to animate my creative impulse was still there and the Polaroid was perfect for that because I could see what I'd done pretty much instantly and if it was good, even if it was just one picture a day, I felt I'd accomplished something of worth."
Her nuanced silver prints, snapped with a vintage Polaroid camera, conjure familiar people from Smith's life and literary history, whether depicting her father's teacup or Arthur Rimbaud's spoon and fork. The normal seeming objects gain a magical air of mystery through Smith's careful eye, captured with a dreaminess reminiscent of Nadar or even Lewis Carroll. They allow you to peer into the memory of one of the greatest living influences on music, literature and art today.
"Camera Solo" will show at the Art Gallery of Ontario from February 9 to May 19, 2013. The touring exhibition is the Detroit Institute of Arts until September 2, 2012.
See a slideshow of Smith's photography currently on view in Detroit below.
PHOTO GALLERY
Patti Smith's 'Camera Solo' Exhibit Opens In Detroit
BEFORE YOU GO